Man Crashes Car into Middlesex Hospital, Sets Self on Fire
The 27-year-old recorded the entire incident on Facebook Live and had been ordered to undergo inpatient treatment at Connecticut Valley Hospital two years ago.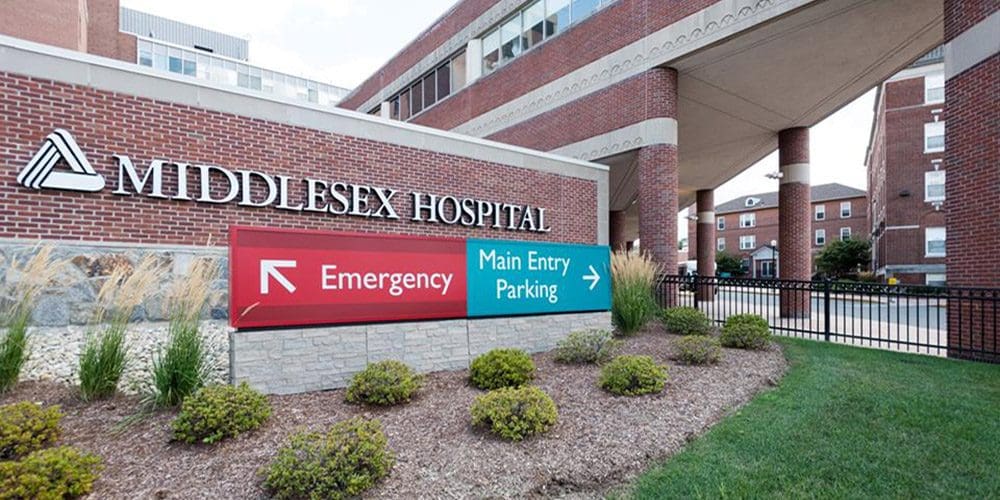 A man is in critical condition after city officials say he intentionally drove his car into a Connecticut hospital before setting himself on fire.
At approximately 10 a.m. on Thursday, officials say the driver, 27-year-old Steven Ellam, crashed his car through the doors of the emergency department at Middlesex Hospital in Middletown, reports CBS Local.
Ellam then proceeded to douse himself with a flammable liquid and set himself on fire. Police recovered several gasoline cans in his vehicle. He was airlifted to the burn unit at Bridgeport Hospital.
Ellam recorded the entire incident on Facebook Live.
"Donald Trump, where are you? My name's Jesus Christ. I'm in Middletown, Connecticut, and I am going to attack one of your headquarters right now. Middlesex Hospital is not safe," he says to the camera minutes before crashing into the hospital.
Police, fire crews, the FBI, the State Fire Marshall, ATF and the Department of Emergency and Environmental Protection were called to the scene.
Middlesex Hospital Vice President of Operations David Giuffrida says there were approximately 30 patients and 20 staff members in the emergency department at the time of the crash. A hospital security officer was treated for smoke inhalation after evacuating people from the emergency room. No one else was injured.
Mayor Dan Drew says it appeared to be an isolated incident. As a precaution, police secured other public facilities in the area, including schools.
All outpatient services at the hospital have been suspended and the emergency department has also been closed until further notice.
Man Has Criminal Past, History of Mental Health
Authorities held two press conferences at Middletown City Hall but did not discuss a possible motive. Ellam's Middletown home was searched and nearby homes were evacuated as a precaution.
Middletown Police Chief William McKenna says Ellam has a lengthy criminal record and has been known to police since he was 14-years-old, reports Fox 6.
"He did have a probation officer assigned to him. Whether or not he's still on probation, I don't know, but I did put a call in but we haven't heard back to see if he is officially or not," said Captain Gary Wallace.
According to The Courant, Ellam has been convicted multiple times in cases that include violent assaults. He served prison time and was ordered to undergo inpatient treatment at Connecticut Valley Hospital two years ago.
In 2012, Ellam put his hands around his father's neck and said he would kill him. His father told police he had threatened to kill him in the past and was fearful.
In 2013, court records show Ellam wrapped plastic bags around a woman's head while he was drunk and high on synthetic marijuana. Before attacking her, the woman told police Elam said, "You have sinned and now you have to repent, you are going to die." While the woman played dead, Ellam reportedly said to her, "I know you're not dead yet."
In the past year, Ellam was employed at a Middletown coffee shop and Italian restaurant. On Wednesday, he abruptly quit his job at the Italian restaurant.
Restaurant owner Vinnie Scileppi says Ellam had worked for him for nine months and was a "model employee".
"He came in looking for a job and I said, 'You're in the right place at the right time; I'm hiring,'" Scileppi said. "He stayed late when he needed to, he asked for more hours often. I don't like to judge anyone. When he was here there was never a problem."