Florida, Texas and Calif. Hospitals Nearing Capacity as COVID-19 Cases Spike
Florida, Texas and California recorded 27,574 new cases Monday, accounting for more than a third of the new cases reported in the U.S.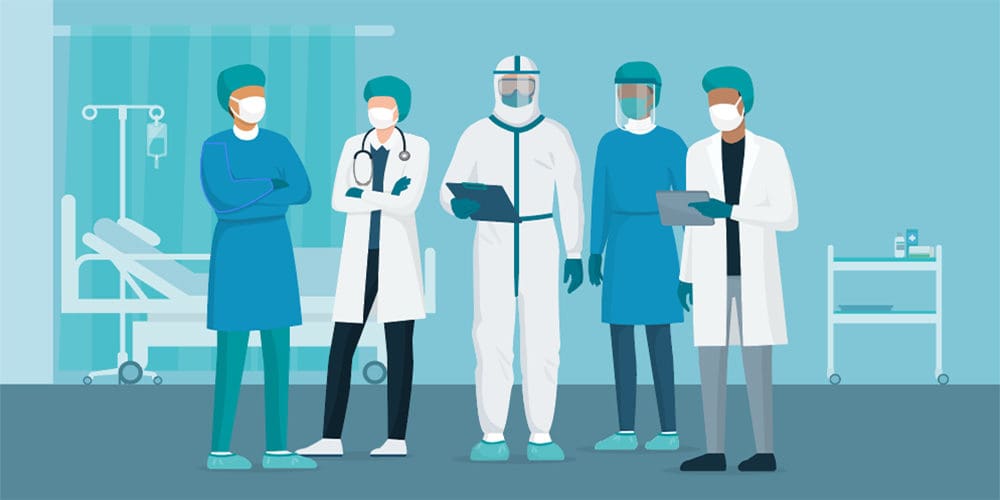 Hospitals on the East Coast are coming up for air as coronavirus cases and subsequent hospitalizations continue to drop, but hospitals in other parts of the country are now dealing with patient surges.
According to an NBC News tally, Florida, Texas and California reported 27,574 new cases on Monday, accounting for nearly 1 in 5 (18.9%) of the global total and more than a third of the new cases reported in the U.S.
On Sunday, Florida had more than 15,000 confirmed cases — the highest daily spike any state has experienced during the pandemic, breaking a previous record set by New York, reports Newsweek. On Friday, more than 435 people were hospitalized, setting another record.
According to data released by the state's Agency for Health Care Administration, nearly 85% of the state's ICU beds are occupied, with just 933 ICU beds remaining across the state. At least 52 hospitals in the state have no ICU capacity left at all.
An infectious disease specialist at the University of Miami has compared the current situation in Miami to that of Wuhan, China, earlier in the pandemic.
"Miami is now the epicenter of the pandemic. What we were seeing in Wuhan six months ago, five months ago, now we are there," said Dr. Lilian Abbo, who is also chief of infection control for the Jackson Healthcare System.
Miami-Dade County currently accounts for 23.9% of all cases in Florida with an infection rate of 2,372 per 100,000 people.
In a virtual press conference Monday, Miami City Mayor Francis Suarez said the hospital system is "essentially at its peak" at 91-92% capacity. He also said efforts are underway to increase capacity by up to 50% over the coming weeks but that staffing is the main issue.
In Texas, more than 10,000 patients are currently hospitalized with the virus. As of Tuesday, the two-week death total was up by 99% over the previous two weeks. However, Governor Greg Abbott warns the worst is yet to come, reports NBCDFW. On Monday, state health officials reported more than 5,600 new cases and 40 deaths.
Over the past month, hospitalizations have quadrupled in Harris County, which includes Houston. Abbott said putting Texas back on lockdown is a last resort, but top Houston officials are urging him to issue stay-at-home orders. Some warn that the situation could be a repeat of what happened in New York City in March in April, and that the city will not have the same level of government intervention to support it.
Some Houston hospitals have been forced to treat hundreds of COVID-19 patients in their emergency rooms for several hours or even multiple days as they clamber to open additional ICU beds. according to the Texas Tribune.
"Normally that patient would just go to an ICU bed, but because there are no beds available, they continue to board in the emergency room," said Harris Health System president and CEO Esmaeil Porsa. "It is not an optimal level of care. This is not something we would choose to do. The only reason this is happening is because we are being forced to do it."
The region's 12 busiest hospitals are also increasingly telling first responders that they cannot accept new patients. On Thursday, 3,812 people were hospitalized in the region for the virus, including more than 1,000 in ICU beds.
On the West Coast, California has seen at least a 20% jump in cases over the last four weeks, reports The Washington Post. Last Wednesday, it reported a record number of deaths.
Statewide, the number of people hospitalized with COVID-19 has increased by nearly 50% over the last two weeks and now sits at a record high. Officials have linked the surge to an increase in transmission that began in late May as some counties began reopening businesses, thousands gathered for large protests and some people met up with family and friends, according to The Los Angeles Times.
"We're getting to the point where we're just overwhelmed — emotionally, physically exhausted. We don't have enough workers for all these patients; we're working extra shifts," said Mary Lynn Briggs, an intensive care unit nurse at Mercy Hospital in Bakersfield. "I'm expecting things to go from bad to worse over at least the next couple of weeks."
The surge has hit the state unevenly though, with some facilities reporting steady numbers while others have risen sharply.
Carmela Coyle, head of the California Hospital Association, said hospital leaders are preparing for a further surge by drafting plans to shift patients between hospitals if needed, increasing testing supplies, and training staff to treat COVID-19 patients, among other things.
"California hospitals have been and continue to be ready to deal with the COVID crisis," she said.
Read More Articles Like This… With A FREE Subscription
Campus Safety magazine is another great resource for public safety, security and emergency management professionals. It covers all aspects of campus safety, including access control, video surveillance, mass notification and security staff practices. Whether you work in K-12, higher ed, a hospital or corporation, Campus Safety magazine is here to help you do your job better!
Get your free subscription today!