Is Your Campus Doing These 3 Things to Improve Fire Safety?
October is National Fire Prevention Month. Here are three things facilities managers can do to advance fire safety and prevention.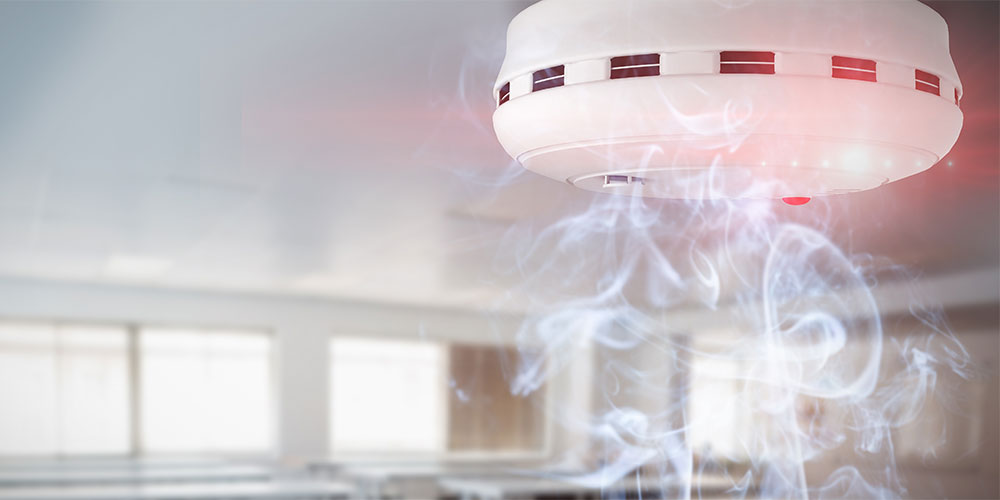 Fire safety and prevention is always top of mind for facilities managers as the safety of their occupants is a constant goal, one that precedes all others. This month, fire safety rises to the forefront of conversations across industries. October is National Fire Prevention Month, an opportunity for industry leaders and experts to share the latest in fire prevention solutions and research.
With life safety technologies evolving at an astounding rate, there's more to explore than ever.
However, this wealth of information can sometimes make it difficult to break through the noise to determine the best strategy for your facility's unique safety needs. In honor of National Fire Prevention Month, here are three actions any facilities manager can take for improved fire safety.
Step 1: Conduct a facility risk assessment
Implementing a strong fire prevention strategy means more than installing fire alarms. Before you can create an ideal building environment, it is critical to evaluate existing technologies that are in place as well as any equipment gaps and opportunities. 
Facilities managers can best do this by enlisting a fire and life safety professional to conduct a risk assessment. During this process, the partner can complete a full review of the systems that are already in place, and what could be implemented to enhance facility and occupant safety.
They search for hazards such as exposed flammable materials, faulty electrical equipment and improper ventilation. They also assess fire preparedness, checking for outdated emergency lighting, evacuation route blockages, malfunctioning alarms and more.
By bringing in professionals for a risk assessment, they are able to create a custom roadmap for facilities managers that they otherwise would not be able to develop themselves. A fire and life safety partner can help to improve a safety strategy within a facility's budget and outline what can be done long-term, such as future systems integration.
Step 2: Systems integration for improved safety
One of the biggest advancements in fire prevention has been the increase in building systems integration. A fire and life safety professional can pinpoint where systems can be connected to meet the unique needs of a building in addition to identifying where it might make sense to install new systems.
However, facilities managers might be surprised to learn that a rip and replace is not needed, and that many of their foundational systems – like fire detection and occupancy sensors, mass notification, video surveillance, HVAC and lighting – can be seamlessly integrated for maximum efficiency and improved response during a fire emergency.
For example, when fire detection sensors are triggered, they can send a message to the lighting controls to be automatically turned on in hallways to help guide occupants to the safest evacuation route and provide better visibility through any smoke.
At the same time, HVAC systems can shut down in certain areas to limit oxygen fueling the fire while an emergency communication system alerts local emergency response teams to the situation.
This real-time communication between systems helps provide a higher level of safety and communication in the event of a fire emergency.
Step 3: Building code and technology education to stay compliant
After completing a risk assessment and putting time into systems integration, it is crucial for facilities managers to be proactive in maintaining the new strategies they have set in place.
Understanding the latest codes and standards that encompass fire prevention is the best way to help accomplish this. 
The National Fire Protection Association (NFPA) is one organization that delivers research, training and advocacy in addition to codes and standards to help provide facilities managers with the information they need to keep their occupants safe and do their job well.
The NFPA is an excellent resource as the association is constantly assessing where any code updates need to be made to keep up with the ever-changing landscape.
For instance, the 2019 edition of NFPA 72: National Fire Alarm and Signaling Code provides quality regulations for the application, installation, performance and maintenance of advancing fire alarm and emergency communications systems.
Facilities managers must continue their education on the variety of standards to maintain a safer facility.
Understanding the latest in fire prevention and life safety trends can help facilities managers become more aware of what is needed to stay compliant, but they must also keep in mind their own technology.
To see the greatest return on their technology investments, regular systems maintenance is required. Some smarter systems may automatically handle this, but it is beneficial to have planned check-ups to reduce frustration and the potential for dangerous system downtime.
Fire prevention strategies for smarter, safer buildings
This National Fire Prevention Month, facilities managers should dedicate time to reexamine the systems and strategies in place.
Whether assessing a building's current conditions to identify areas for improvement, integrating smarter and more efficient solutions, or ensuring your fire safety strategy is up to code, this month is an opportune time to make adjustments at your facility to work toward a safer future.
---
Rodger Reiswig is vice president of industry relations at Johnson Controls, focused on improving fire and life safety in facilities.
This article was originally published in CS' sister publication, MyTechDecisions, and has been slightly modified to fit our audience.
Read More Articles Like This… With A FREE Subscription
Campus Safety magazine is another great resource for public safety, security and emergency management professionals. It covers all aspects of campus safety, including access control, video surveillance, mass notification and security staff practices. Whether you work in K-12, higher ed, a hospital or corporation, Campus Safety magazine is here to help you do your job better!
Get your free subscription today!