Document Downloads
Weighing the Benefits and Challenges of Cloud Technology
Understanding the pros and cons of using the cloud to manage security systems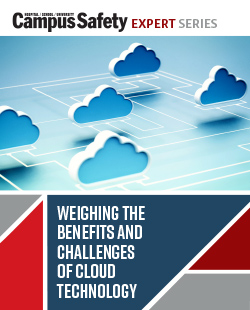 According to the 2020 Campus Safety Video Surveillance Survey, 31% of campuses are currently using cloud technology to manage the remote monitoring of their security cameras.
But is the cloud right for your department? This new guide, Weighing the Benefits and Challenges of Cloud Technology, describes many of the benefits and challenges associated with these platforms. Topics in this guide include:
Types of cloud services
10 benefits of cloud platforms
Cloud's security issues
COVID-19's impact on cloud conversion
Download this free guide today to help you and your organization make the right cloud technology choice.
Please fill out the form below to receive your download.