Document Downloads
Surveillance vs. Supervision: Understand the Difference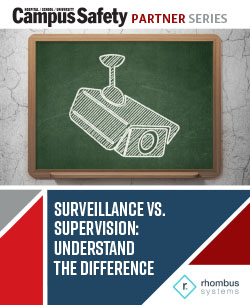 Video surveillance plays a vital role in school safety and security. Cameras create an unbiased and reviewable visual record of what takes place on a K-12 campus.
However, it's critical for a school to integrate its video surveillance system with adult, in-person supervision of students.
This new download, "Surveillance vs. Supervision: Understand the Difference" describes how combining security cameras with adult staff who can intervene during incidents can enhance school security.
Finding the right balance of technology and adult supervision of students is the key to a successful school safety and security program.
This new download covers:
How to integrate available technology with human supervision
The benefits and disadvantages of video surveillance technology
How to choose the right video surveillance system
Download this new resource today.
Please fill out the form below to receive your download.