Document Downloads
School Lockdowns: 9 Tips for More Effective Lockdowns
Keeping doors locked, avoiding codes and having reverse evacuation protocols will help to ensure your lockdowns are implemented quickly.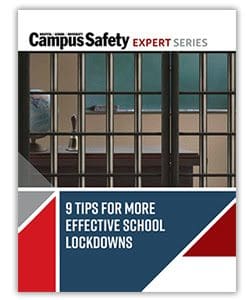 As a campus safety professional, it's your responsibility to make sure your students and staff are safe and sometimes it can seem like spending money on the most high-tech solutions is the best way to go. Unfortunately, your school's budget may not allow that.
Plus, there is no "one size fits all" lockdown protocol that will work properly in every school because procedures must reflect differences in school design and local law enforcement response capabilities. Lockdown protocols that look great on paper or during basic drills initiated by an administrator can have significant gaps when tested by actual events.
We have seen instances of delays in the implementation of school lockdowns ranging from a minute to several minutes in actual incidents, and we have often seen fail rates of 60 percent to 81 percent during simulations that require individual staff members to make and communicate the lockdown decision.
Download this FREE report for 9 tips for more effective school lockdowns.