Document Downloads
Making the Case for Video Surveillance Upgrades
Video surveillance can be used for a wide variety of security and business tasks, making it an excellent investment. Download this FREE report to learn how you can justify the expenditure.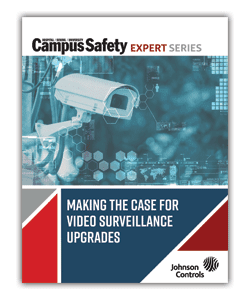 For several years now, schools, universities and healthcare facilities have been adopting new or upgraded video surveillance systems.
Ninety six percent of the campuses with cameras report that their video surveillance systems sometimes or frequently provide evidence for investigations, while 86 percent say their security cameras sometimes or frequently help their public safety or security departments monitor the campus during situations where safety or security issues could arise, such as storms, athletic events concerts, protests and more. 8 in 10 believe their video surveillance systems sometimes or frequently prevent crime. Cameras can also monitor productivity, improve accountability (of employees, students, and staff), collect information, verify compliance with government regulations, such as HIPAA, and possibly reduce insurance costs.
Although these statistics alone should be enough to convince campus executives and administrators of the value of video surveillance, they still might want more information. Additionally, stakeholders who aren't directly involved in security or law enforcement might not be familiar with what makes up a security camera solution.
Download this FREE report  "Making the Case for Video Surveillance Upgrades" for more information about video surveillance systems and their benefits that will help you make your case for an investment in security camera technology.
Please fill out the form below to receive your download.