Document Downloads
How to Evaluate Competing Technology
A systematic approach will help to ensure your organization makes the right public safety and security technology purchasing decisions.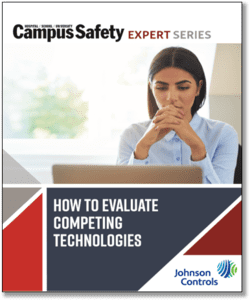 Imagine this scenario: you are head of campus security and you are sitting in a meeting with the heads of IT and facilities, the school's vice president of finance and administration, and the college president. The purpose of your meeting is to consider the purchase of equipment to upgrade safety and security technologies. There are three options on the table:
A new video surveillance system
An electronic key/access control system
Panic alarms for all classrooms and offices
Unfortunately, your budget is not sufficiently robust to select all three, so you need to evaluate what to buy. Further complicating the problem is that police and security want the camera system, facilities is supporting the access control system and IT advocates the panic buttons. Each attendee can make a convincing argument in support of his or her desired option. Often, in the byzantine world of procurement, all things being equal, the decision will reflect the personalities of the respective policy options, their alliances and their political and negotiation skills.
As a result, the decision made may reflect the desires of the most capable and powerful advocate; not necessarily what's demonstrably best for the school.
This free whitepaper "How to Evaluate Competing Technology" provides an empirically verifiable evaluative framework to choose between equally attractive yet competing technologies. It also can be useful to vendors to suggest how to present their wares to make them most attractive to potential customers.
Download your copy today >>>
Please fill out the form below to receive your download.