Document Downloads
How Panic Alarms Can Improve School Security
Panic buttons or duress alarms can be used by teachers, administrators and other school employees to summon immediate help for medical emergencies, as well as active shooter incidents, inclement weather, intruders and more.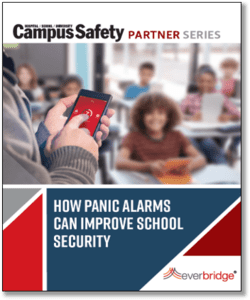 One of the most effective solutions a district can deploy when implementing safety and security measures is a panic alarm system that enables school teachers, administrators and other employees to call for help by simply pressing a button when there is an emergency.
Our new guide "How Panic Alarms Can Improve School Security" provides an overview of some of the key considerations for deploying panic alarms, including:
Evaluating panic button options such as smartphone, fixed and pendant buttons
Finding a solution that is flexible enough to fit your district
Considering use case scenarios and functional considerations
Selecting qualified vendors
Download your copy today for helpful tips on evaluating and selecting the best panic alarm solution for your organization.
Presented by:

Please fill out the form below to receive your download.