Document Downloads
How Mobile Access Control Credentials Improve Security & Convenience
Here's how your organization can leverage this technology to reduce costs, increase security and improve student and staff experience on campus.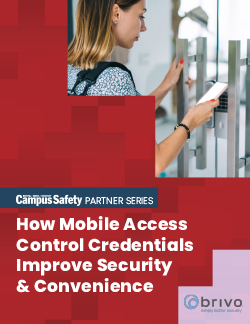 Access control credentials on smartphones are a game changer. Mobile credentials enable students, faculty, staff, clinicians and other authorized personnel to use their mobile phones to access their residence halls, classrooms, offices and other locations on campus.
These are some of the newest technologies on the market and are gaining in popularity in educational and healthcare facilities. Campus Safety found that 62% of respondents overall have purchased access control solutions with mobile credential options over the past two years, with 45% saying they are considering buying more.
This new whitepaper, "How Mobile Access Control Credentials Improve Security & Convenience," is a primer on this technology. It includes the steps your organization can take to ensure you select the best solution that will fully address your requirements. Other topics include:
Features That Make Mobile Credentials Attractive
Traditional v. Cloud-based Access Control
Student Usage of Smart Phone Technology
Get your free copy to learn the benefits of mobile access control credentials and how you can incorporate them at your campus.
Please fill out the form below to receive your download.