Document Downloads
Helpful Mental Health Resources for Campuses
Learn how to address mental health issues among students, faculty, and staff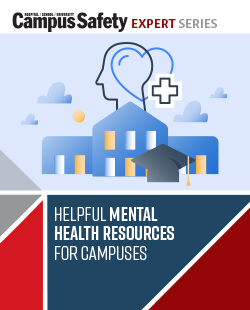 For every student who dies as a result of suicide, 280 others consider it but don't go through with an attempt, according to nonprofit organization Active Minds.
So how should healthcare and educational organizations address mental health issues, whether they are being experienced by the students, patients, visitors or employees?
Campus Safety's latest resource, Helpful Mental Health Resources for Campuses, covers topics such as compassion fatigue, detecting students at risk of suicide, and reducing the stigma of getting help.
Also covered:
How to Take Care of Your Mental Health
Campus Public Safety Officers' Vital Role in Student Suicide Prevention
Taking a Community-Based Approach to Campus Mental Health
Download this free whitepaper today and learn how to tackle mental health challenges on your campus.
Please fill out the form below to receive your download.