Document Downloads
Finding the Right Security Systems Integrator for Your Organization
Four campus protection pros describe how they vet their electronic security contractors and the top challenges they must address.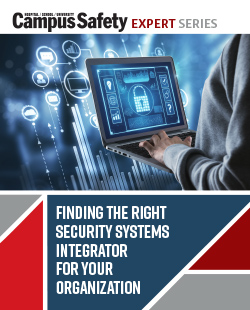 Go to any college campus, hospital or K-12 school, and you'll most likely find multiple security and building systems running. These solutions need to interoperate. Also, new ones must be installed correctly. This will make your organization's response to safety and security issues faster and more effective.
To ensure this, it's important to partner with a highly qualified integrator who you trust.
In this new resource, "Finding the Right Security Systems Integrator for Your Organization," K-12, higher education, healthcare and education industry protection professionals weigh in on:
Vetting Security Integrators
Top Safety & Security Challenges
Security in the Age of COVID-19
Download this free guide today to help you find the right security systems integrator for your campus.
Please fill out the form below to receive your download.