Document Downloads
Fighting Against Hospital Workplace Violence
While there isn't one solution to mitigating hospital workplace violence, a change in the culture surrounding reporting incidents is a good place to start.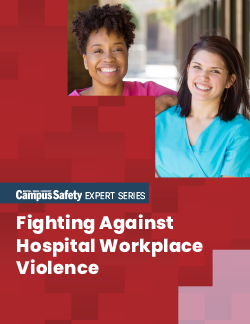 Now, more than ever, it is essential that the issue of hospital workplace violence is addressed. A recent survey from the International Association for Healthcare Security and Safety (IAHSS) found hospital assaults hit an all-time high in 2020.
This new Campus Safety expert series whitepaper, "Fighting Against Hospital Workplace Violence," discusses how hospital culture has made it hard to tackle workplace violence. Other topics covered include:
What changes needed to be made
The importance of new policies and procedures
The need for new technologies
3 ways to stop nurse bullying
And more…
Download your free copy of this new resource today learn more about mitigating workplace violence in your hospital or healthcare facility.
Please fill out the form below to receive your download.