Document Downloads
Avoid Confusion: Clery Act Requirements Explained
Confusion often arises about what is needed to comply with the Clery Act and its requirements for an annual report on crime statistics. Campus Safety's free resource shares a comprehensive look.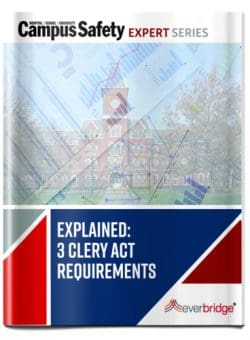 While the Clery Act is important to keep the public informed of crime at colleges and universities, it can be confusing and time-consuming for campus security professionals to comply.
Under the Clery Act, all schools that receive federal funding are required to provide an annual security report to employees and students. Non-compliance can result in large fines and damage to a school's reputation.
To be Clery compliant, staff members must be able to provide documents when asked. But it's often confusing to know which documents are included. Campus Safety's free resource, "Explained: 3 Clery Act Requirements" will help security professionals answer such questions as:
Which documents should schools keep?
What's the difference between an emergency notification vs. a timely warning?
What should you know about the 3 Clery Act Requirements?
You'll learn what 8 documents colleges need to keep on file for 7 years and you'll also get a comprehensive look (including maps) at where campus property ends and public property begins.
Download your free copy today >>>
Presented by:

Please fill out the form below to receive your download.