Document Downloads
Parents Guide to Keeping Your College Student Safe
This comprehensive guide provides what you need to determine whether your child's security is a priority at the universities under consideration.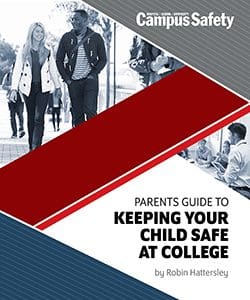 You can't judge college and university safety by looks alone. You need the Campus Safety "Parents' Guide to Keeping Your Child Safe at College." You'll find everything you need to ask and the right answers to your questions all in one place. Then you and your future freshman will have the knowledge to make the safest decision as to where to spend the next four years.
Get the tools you need in Campus Safety's Parents Guide to Keeping Your Child Safe at College.
This guide offers:
what questions to ask at potential colleges in 10 crucial areas
talking points for parents to help students avoid potential dangers
the answers you need to determine which campuses are safer
Don't roll the dice and think that all colleges are the same because they're not. You owe it to yourself and your child to act on the knowledge you'll find in this guide.
Get your copy today!
Please fill out the form below to receive your download.