Document Downloads
Campus Safety 2020 Digital Product Guide
This free guide includes information on the latest security and safety products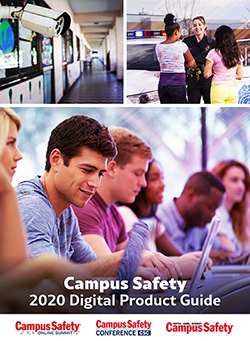 When it comes to evaluating which products and solutions to use for protecting your students, staff, and campuses, it can be tough to wade through all the choices that are available out there.  We're here to help!
Campus Safety has gathered some of the latest security and safety products and compiled them into one complete resource, the "2020 Digital Product Guide."
Each product listing includes product information, pictures, and manufacturer's website. Product categories include:
• Access Control
• Communication Solutions
• Alarms
• Health Screening Tools
• Video Surveillance
And many more…
The best part: This valuable resource is free! Get your copy today!
Please fill out the form below to receive your download.