Document Downloads
Access Control: How to Select the Right Technology for Your Campus
Learn how campuses are embracing Access Control in this FREE report.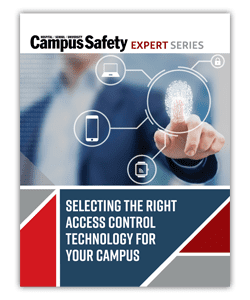 Access control can mean different things to different people.
It can be as simple as a keypad or lock on a classroom door, and it can be scaled up to an enterprise application controlling thousands of doors at multiple sites and integration into different systems. Some of the more common forms of access credentials include keys, cards, fobs and biometrics (handprints and fingerprints).
A credential can be your mobile device, where you present your phone to use Bluetooth low energy (BLE), near field communications (NFC) or a barcode to gain entry. Then there are the readers that receive the credentials. There is also the technology, such as locks, gates, turnstiles and so on associated with traditional physical security that the access control credentials open. Access control credentials can also be used to access machinery, such as a hospital medication dispenser or a computer network.
Finally, all of this technology needs to be tied back to controllers, and those controllers are managed either through software or an off-site cloud application or hosted cloud service. This ties the system together to control the system.
The key to justifying the purchase of access control technology is determining the scope of its use, which isn't as easy as it sounds.
This free report "Selecting the Right Technology for Your Campus" discusses
How Campuses are Embracing Access Control
The Many Layers of Access Control Systems
The Many Benefits of Eliminating Keys
How Integration Cuts Costs, Streamlines Operations
Convincing Your Campus to Invest in Access Control
Download your FREE copy today >>>
Please fill out the form below to receive your download.