Document Downloads
7 Red Flags When Hiring a Window Security Vendor
When reinforcing the glass on your campus, it's important to hire the right window security vendor for the job.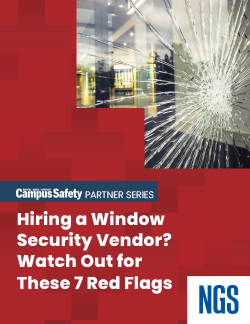 Glass windows and doors are the most vulnerable areas of a building. Although the many benefits to reinforcing the glass openings on campus are obvious, finding a qualified window security installer can be challenging. It's critical for a campus to select the right vendor to install this important technology. Due diligence is critical.
This new resource "7 Red Flags When Hiring a Window Security Vendor" offers advice on what to watch out for when considering vendors, including:
The vendor claims their window film is "bullet-proof."
The vendor doesn't test the frame holding the glass to ensure it meets your desired ballistic performance criteria.
And more…
Download your free copy now for help hiring the right window technology installer.
Please fill out the form below to receive your download.