Document Downloads
2023 Panic Alarm and Mobile Duress System and App Deep Dive
Gain insights into how and why schools, universities, and hospitals are incorporating panic alarms and mobile duress systems into their campuses, the emergencies when systems are used most and more.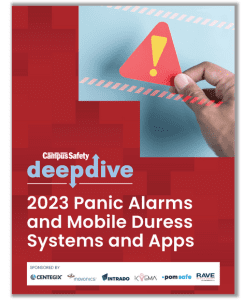 There are a whole host of panic alarm and mobile duress applications at K-12 schools, institutions of higher education, and healthcare facilities. The 2023 Campus Safety Panic Alarm and Mobile Duress System and App Deep Dive provides valuable insights into the expanding use of this technology, including the possible impact the rising rate of workplace violence and active shooter events has had on its adoption.
The Deep Dive also covers:
The specific reasons why schools, colleges, and hospitals are acquiring panic alarms and mobile duress systems and apps
Which incidents prompt the most activations of these systems
Who receives the initial notification when a panic button or mobile duress app is activated
How well these systems are performing.
Get your free copy of this report to gain access to this exclusive research and find out if your campus falls short regarding the adoption of panic alarms and mobile duress technologies.
Please fill out the form below to receive your download.