Document Downloads
2021 Video Surveillance Deep Dive Survey
Get the latest research results on video surveillance usage and planning in schools, higher education and hospitals.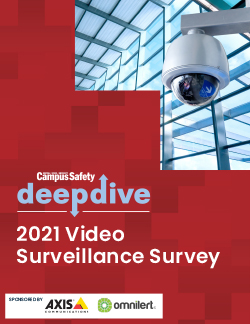 Now more than ever, educational and healthcare facilities value their video surveillance systems and continue to acquire a growing array of equipment and solutions.
According to Campus Safety's 2021 Video Surveillance Deep Dive Survey, 94% of all respondents say they have video surveillance systems deployed, with another 4% saying they don't but plan on buying security cameras in the next two years.
Topics included in this year's survey include:
Plans for buying new or upgrading equipment
Challenges with video surveillance
Implementation of body-worn cameras
And more
Get your free copy of the Campus Safety's latest survey results today!
Please fill out the form below to receive your download.