Document Downloads
2019 Emergency Notification Special Report
The latest Campus Safety survey finds that overall demand for emergency notification solutions has increased to 57% compared to 51% in 2017. This is the highest demand we have seen in the past two years.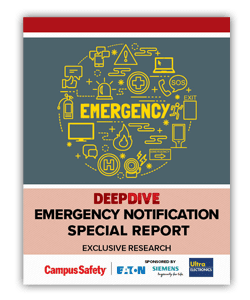 Demand for emergency notification solutions continues to grow. The 2019 emergency notification survey found that 57% of respondents plan to deploy new or upgraded solutions compared with 51% in 2017. The increase in demand isn't surprising considering the wide variety of emergencies in which campuses use their emergency alert systems.
Our new "2019 Emergency Notification Special Report" provides insight into a number of important trends, including:
Purchase plans broken out by industry (K-12, Higher Ed and Healthcare)
Top features for new emergency notification systems
Prevalence of multiple integrated systems
Breakdown of which individuals have authority to issue emergency notices
And much more
Get your copy of our new report today to gain insight into how other campuses are planning and deploying emergency notification systems.
Please fill out the form below to receive your download.