Document Downloads
18 Tips For Using Metal Detectors Effectively
These 18 tips will ensure you get the most out of your investment in metal detection technology.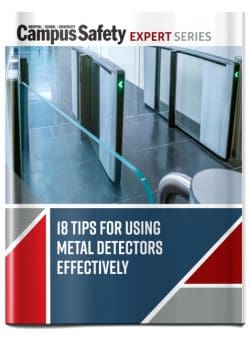 The controversial decision on whether to install metal detectors at schools, universities, and hospitals is one most security officials don't take lightly.
The costs, concerns about sending the wrong message, and the ability to operate these machines can pose challenges. Therefore, the decision to adopt this type of weapons screening solution should be made on a case-by-case basis.
Our new guide, 18 Tips for Using Metal Detectors Effectively, offers best practices to ensure you get the most out of your investment. And if your department is on the fence about whether to add metal detectors to your campus, this guide also offers pros and cons to help you make the right decision.
Download this free guide today!
Please fill out the form below to receive your download.