Document Downloads
10 Infant Security Best Practices
These solutions can help your hospital thwart infant abductions, which often are very carefully planned.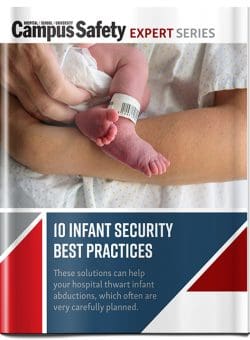 While infant abduction from hospitals is a rare occurrence, it's still important for hospitals to be vigilant about protecting babies' security. Between 1983 and 2014, nearly half of the infants abducted in America were taken from healthcare facilities.
Infant abduction attempts are usually well planned, with abductors becoming familiar with a hospital's layout, controls and procedures. But there are several steps healthcare facilities can and should take to prevent these types of incidents.
Campus Safety's newest resource, "10 Infant Security Best Practices," offers solutions to help your hospital or healthcare facility thwart infant abductions. It also addresses the importance of hospital emergency codes and the need for standardization.
Get your free copy of this important resource today!
Please fill out the form below to receive your download.