Metal Detection Worth Its Mettle
The metal detectors now available on the market can help healthcare and education facilities reduce their risk of weapons assaults. Knowing how to install and use this equipment, however, is the key to keeping it effective.
As part of a campus' security screening process, metal detectors provide an added measure of safety when placed in conjunction with well-trained security personnel. Whether a facility uses walk-through metal detectors, handhelds, or, more commonly, both, such devices can provide the foundations for a safe, secure environment where students can learn and patients can receive medical attention without fear.
It must be acknowledged, however, that there are logistical issues associated with the use of these products, and not every campus or facility will require the same deployment.
Hospitals, for example, pose a challenge to the proper installation of metal detectors, which may interfere with the normal functioning of medical devices – a disruption referred to as electromagnetic interference (EMI). Likewise, not all school and university campuses face the same challenges, and the deployment of metal detectors on a particular campus environment may require a layout different from that of another school.
Mark Meyer, director of sales for CEIA USA, a metal detector manufacturer, recommends that hospital and campus administrators do some homework before purchasing any metal detector. "The first thing you want to get straight in your mind is 'What is it I want to protect myself from?' Second, 'What do I not want to detect?' Third, 'How much traffic flow do I have?'"
Locate or Create the Proper Surroundings for a Metal Detector
President and CEO Tom Walsh of Fisher Research Labs notes, "The challenge to a security situation is that when the metal detector finds itself in a new environment, the temperature can be different, or it can be in closer proximity to some other electromagnetic field." Once a vendor delivers a walk-through, or portal, metal detector, it should be placed in a location where the environmental conditions will not interfere with the device's functionality. The area in which it will be installed should also be rearranged so as to minimize the risk of interference.
Of particular importance to medical facilities is the EMI caused by the metal detectors. Pacemakers, defibrillators, nerve stimulators and other medical devices may be inactivated or reprogrammed by this phenomenon. Instances of this happening have been extremely rare, however, and recent studies conducted by the German Heart Institute in Munich, Germany, indicate that EMI is not as likely to occur as common wisdom would lead us to believe. Nevertheless, it is unlikely metal detector manufacturers will cease placing standard warnings on their products anytime soon.
According to the U.S. Department of Justice's "The Appropriate and Effective Use of Security Technologies in U.S. Schools," the portal's vendor should perform a series of tests to ensure the functionality of the portal once it has been deployed. Relocating a metal detector will require the device's settings be readjusted. The supervisor or operator of the machine should document how to replicate the tests in case he or she no longer has access to the vendor in the future.
Identify the Weapons Most Likely to Be Encountered
The U.S. Department of Justice suggests that every school, university or hospital official in charge of security prepare a list of the top three or four threat objects most likely to be encountered. Once this is accomplished, the vendor can fine-tune the walk-through's sensitivity settings so it will give the appropriate response when an armed individual walks through the portal. Calibration trials can be performed by obtaining items of equivalent size and material composition to the predetermined threat objects.
Once obtained, these objects should be placed on various parts of the body of a person who will then step through the portal. A rigorously tested portal will have gone through 20 walk tests per object per location on the body, and passed at least 95 percent of the tests. If the portal fails the series of tests, its sensitivity levels should be adjusted to respond to the designated threat objects.
Determine the Objects That Will Be Allowed
Acceptable items are what campus officials deem as borderline items. The material from which these nonthreatening items are made is sufficiently conductive that they may produce electric currents (called eddy currents) when in contact with the portal's magnetic field. If the item has been previously determined to be nonthreatening – examples include pens, keys or coins – then the result is a false alarm.
Depending on the facility or campus, a portal's sensitivity levels may be adjusted to accommodate these items. Facilities that are particularly concerned with the threat of violence in any form will perhaps elect to set the portal's sensitivity levels very high. In such cases, the portal will not be able to discriminate between various metallic objects.
Understand Traffic Flow to Achieve Optimal Throughput
Having knowledge of an area's traffic flow will enable supervisors to identify the kind of throughput they want to achieve with any particular metal detector. Throughput is defined as the number of individuals processed by a metal detection device or program in any given period of time. For facilities that have high traffic flow, the throughput rate will be a top priority.
Throughput can be affected by any number of factors: the training of the portal operators, the compliance of those being scanned and the number of zones a particular portal covers.
The more zones a metal detector handles, the more precisely it can localize the metallic object on an individual's body. A multizone metal detector can accurately pinpoint the site on the body on which the metal resides, reducing the amount of time an operator spends rescanning the individual with a handheld.
Such detectors are particularly suited for schools concerned with student tardiness that may result from the installation and use of portal metal detectors. Multizone products, however, are more expensive than their single- or dual-zone counterparts, which can certainly influence a school district's or medical facility's decision to purchase one.
Vaughan Garrett, vice president and director of marketing communications for Garrett Metal Detectors, names at least one option for schools with budgetary constraints. "As a cost-conscious measure, some schools can purchase a dual-zone walk-through in which you will still have full coverage of the body, divided in half."
A single-zone metal detector will only inform the operator that there is metal on the body, and a dual-zone device will indicate on which half the metal resides. The operator will then need to remove the individual to another security checkpoint to scan his or her entire body – or half the body – with a handheld metal detector to locate the concealed piece of metal, which slows down the processing rate.
Regardless of what kind of portal a school, university or hospital ultimately chooses, it is strongly recommended that handheld metal detectors also be available so as to allow reinspection of an individual after he or she has triggered a portal's alarm.
Schools and Their Perimeters Pose a Unique Challenge
A logistical problem that almost always comes to mind when discussing the possibility of using portal metal detectors is the issue of permeable perimeters. School and university campuses especially tend to have perimeters with innumerable points of contact between the inside and outside. Shutting down all the exits except one or two could create such congestion that the benefits of increased security would hardly seem to justify the exorbitant investment of time.
A proven solution to this problem lies in the use of random searches and handheld metal detectors. As Garrett notes, "Random bag checks are extremely effective because the student doesn't know when he or she will be examined for weapons." Though a portal metal detector grants a school a greater degree of certainty as to the presence of metallic objects on its campus, conducting random bag checks with handheld metal detectors leads the student to mo
nitor his or her own activity. In short, such unpredictable and unsystematic surveillance actually becomes an omnipresent surveillance in the mind of the student and has the added benefit of saving a school both time and money.
It is imperative, however, that such intrusive searches be performed by trained security personnel in a professional manner.
Alfonso Jimenez is an editorial assistant for Campus Safety magazine.
For the unabridged version of this article, please refer to the November/December 2006 issue of Campus Safety Magazine. To subscribe, go to https://www.secure-mag.com/CSM_Subscribe/.
If you appreciated this article and want to receive more valuable industry content like this, click here to sign up for our FREE digital newsletters!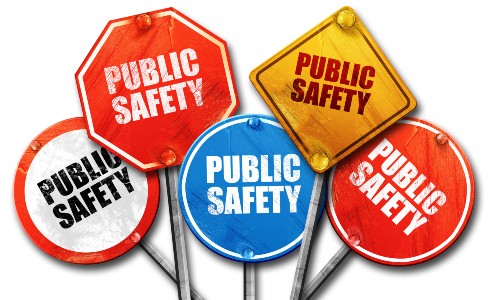 Leading in Turbulent Times: Effective Campus Public Safety Leadership for the 21st Century
This new webcast will discuss how campus public safety leaders can effectively incorporate Clery Act, Title IX, customer service, "helicopter" parents, emergency notification, town-gown relationships, brand management, Greek Life, student recruitment, faculty, and more into their roles and develop the necessary skills to successfully lead their departments. Register today to attend this free webcast!