Door Barricades, Egress Requirements and Campus Safety
New code language has been developed to address barricade device code compliance issues.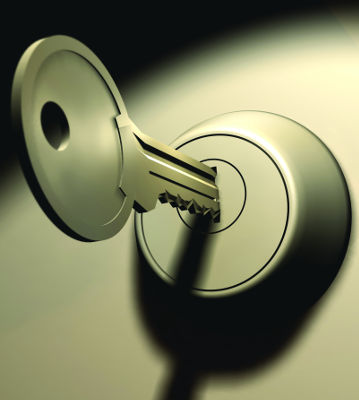 Photos and Videos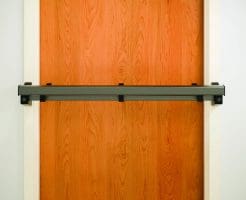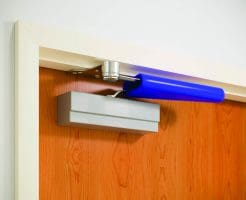 View Slideshow
Door barricades are the latest industry response to a tragic event.
Cocoanut Grove. Triangle Shirtwaist. Our Lady of Angels School. Each of these events resulted in the deaths of hundreds of men, women and children. But they also led to dramatic changes in building codes and egress requirements which, to this day, help to prevent similar accidents and save countless lives worldwide.
Nothing spurs a society to take action like the loss of life, particularly children's lives. But, in the rush to implement changes designed to mitigate risks, new threats can be inadvertently introduced.
One of the most recent examples of this can be found in the wake of the Sandy Hook Elementary School tragedy. Parents demanded that schools enhance security, but after years of steep budget cuts, financially viable options seemed limited.
In some districts, this combination of pressures resulted in the desire to install classroom door barricade devices. These products were presented as an effective and affordable solution that could be installed easily to prevent attackers from gaining access to classrooms.
Overlooked in the rush to increase protection was the fact that many of these products did not comply with existing model code egress requirements.
Egress Requirements
By definition, "barricade" means "to block (something) so people or things cannot enter or leave." The model codes require doors in a means of egress to provide free egress at all times, which allows building occupants to evacuate quickly if necessary.
The egress requirements also state that the door must not require more than one operation to release the latch(es).
Operation of the latching hardware must not require tight grasping, pinching or twisting of the wrist, and latches must be released for egress without the use of a key, tool, special knowledge or effort. On fire door assemblies, all components must be listed for use on a fire door.
By focusing on the existing problem of an active shooter attempting to gain access to a classroom, less consideration was given to what might happen if door barricade devices were deployed and the occupants inside suddenly needed to evacuate.
View the slideshow for examples of door barricade devices that violate codes!
While these devices may be effective at keeping an attacker at bay, many can also make it more difficult for first responders to enter. In addition, there is no guarantee that these retrofit devices would only be deployed in an emergency and, in fact, they could be misused by the students themselves to facilitate the types of assaults that are much more likely to occur.
States Inconsistently Interpret Codes, Egress Requirements
Code officials, fire marshals and other authorities having jurisdiction (AHJs) have been faced with the task of enforcing the current model code requirements for free egress under pressure for increased security at a lower cost.
In many cases, they have testified in direct opposition to proposals that would modify existing fire codes in order to allow the use of door barricade devices.
In some states, their arguments were overruled and the use of some types of classroom door barricade devices has been approved if certain criteria are met.
Other states issued bulletins clarifying that security devices that did not meet the model codes were not allowed. The majority of states did not make an official statement either way, relying instead on their existing state code and egress requirements to ensure that locking devices used on classroom doors allow free egress, are listed for use on fire doors (where required) and meet accessibility standards.
This national debate has resulted in a number of inconsistencies from one state to the next, and even greater variations between school districts where conditional use of retrofit security devices is allowed.
First responders could arrive on-scene without knowing what to expect and without the tools needed to access rooms equipped with classroom door barricade devices. In addition to affecting evacuation, this can also impact a situation where an unauthorized person has barricaded the door with hostages inside, and authorized access from the outside is deterred.
New Code Language Clarified Issue of Door Barricades
The Builders Hardware Manufacturers Association (BHMA) Codes and Government Affairs Committee recognized the need to restore the balance between life safety and security in schools and created a consistent set of code requirements that was then submitted for inclusion in the 2018 edition of the International Building Code.
After moving through the code development process, with input from the International Code Council and numerous other stakeholders, the new language was approved. A corresponding change was also approved for the International Fire Code, and a similar proposal is currently in progress for NFPA 101 – The Life Safety Code.
The 2018 edition of the IBC will include the following section to address school security and egress requirements:
1010.1.4.4 Locking arrangements in educational occupancies. In Group E and Group B educational occupancies, egress doors from classrooms, offices and other occupied rooms shall be permitted to be provided with locking arrangements designed to keep intruders from entering the room where all of the following conditions are met:
1. The door shall be capable of being unlocked from outside the room with a key or other approved means.
2. The door shall be openable from within the room in accordance with Section 1010.1.9. 3. Modifications shall not be made to listed panic hardware, fire door hardware or door closers. 1010.1.4.4.1 Remote operation of locks. Remote operation of locks complying with Section 1010.1.4.4 shall be permitted.
In addition to classrooms, this language will also apply to offices and other occupied rooms in K-12 schools, colleges and universities. Rooms must be able to be unlocked from the outside, and they must meet the egress requirements – one operation to unlatch the door, with no keys, tools, special knowledge or effort, and no tight grasping, pinching or twisting.
No modifications are permitted to any listed panic hardware, fire door hardware or door closers. Remote operation is acceptable if the locks meet the other requirements of this section.
Process to Adopt New Egress Requirements May Be Accelerated
Because these changes to the 2018 model codes will have to be adopted at the state and local levels before going into effect, it would typically take several years or even a decade for the new language to apply throughout the entire United States.
However, there is some cause for hope that the process will move more quickly. The bulk of this code language is already included in both the current and previous model codes.
It would not normally be necessary to reiterate information that is stated in another section of the code, but it underscores the importance of maintaining these existing code and egress requirements.
The only new criterion for school security is that doors that are able to be locked must be able to be unlocked from the outside using a key or other approved means. It's important to note that "approved" means "acceptable to the building official."
States may also choose to adopt the new language ahead of adoption of the entire 2018 model code. This offers a consistent alternative to individual state code changes.
This "pre-adoption" recently occurred in North Carolina, where the N.C. Building Code Council received a proposed change that would have allowed "emergency lockdown safety mechanisms" in schools and office buildings (ie door barricades).
Instead of approving this change, the council chose to adopt the 2018 model code language addressing school security.
Don't Create New Threats to Address Existing Ones
While the instinctive reaction to the terrifying specter of school shootings is to build impervious door barricades that will protect students and teachers from attack, it's important to take stock of the full range of hazards facing schools and avoid creating new threats in the rush to guard against existing ones.
Active shooters and terrorism may command the lion's share of media attention, but students face far greater risk from fire, severe weather, natural disasters and other types of emergencies.
There is a delicate balance between free egress, fire protection, accessibility and security that must be maintained in order to keep building occupants truly safe.
When school districts make the decision to enhance classroom security, they will find that there are a number of code-compliant security solutions available that can be customized based on existing conditions, the needs of the facility and the budget.
All lock functions that would typically be installed on a classroom door will allow free egress as well as authorized access by staff and emergency responders, and will provide the necessary balance of life safety and security for teachers and students. Consulting with a qualified hardware specialist will ensure that life safety is not sacrificed in the effort to enhance a facility's security.
The views expressed by guest bloggers and contributors are those of the authors and do not necessarily represent the views of, and should not be attributed to, Campus Safety magazine.
Lori Greene, AHC/CDC, CCPR, FDAI, FDHI is the Manager of Codes & Resources for Allegion. For more information and to download a free reference guide on codes, visit
iDigHardware.com/guide.
Read More Articles Like This… With A FREE Subscription
Campus Safety magazine is another great resource for public safety, security and emergency management professionals. It covers all aspects of campus safety, including access control, video surveillance, mass notification and security staff practices. Whether you work in K-12, higher ed, a hospital or corporation, Campus Safety magazine is here to help you do your job better!
Get your free subscription today!