Webcasts
The Power of Integration and Analytics for Proactive Healthcare Safety & Security
An Interactive Q&A with Todd Miller, Regional Security Director, SSM Health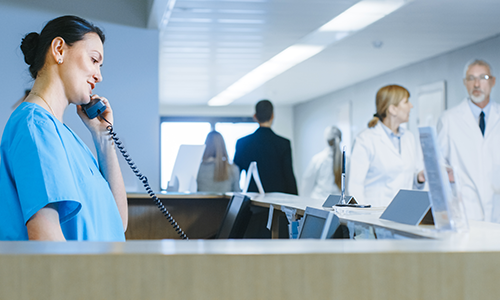 Please join Campus Safety and Ryan LaFleur for a candid conversation with Todd Miller, Regional Security Director at SSM Health in St. Louis, on how innovative, integrated technologies and powerful analytics can transform healthcare safety and security and deliver new operational efficiency.
Healthcare facilities have always faced key challenges given the 24 x 7, always-on and unpredictable environment. Today's environment illustrates just how complex it is for healthcare providers to surmount obstacles, ensure continuity of operations and provide the best patient care and outcomes. Securing healthcare facilities presents unique challenges. With 75% of workplace assaults occurring in healthcare settings (OSHA) and 70% of emergency room clinicians reporting they have been physically assaulted at work (AECP), protecting staff, patients and visitors remains a top priority.
Join us for a thought provoking discussion on:
Gaining leadership buy-in and demonstrating ROI from technology investments and advanced Video Management Systems
Transforming security operations that result in cost saving opportunities for the organization
Integrating systems to detect threats quicker and with more accuracy to prevent situations from escalating, and empower faster response
Leveraging video analytics and intelligence to proactively notify security regarding incidents and strategically allocate personnel within facilities
Ryan LaFleur
Director of Healthcare Business Development
Avigilon, A Motorola Solutions Company
Former Director of Safety, Security & Emergency Management
Biography:
Ryan LaFleur is the N. America Director of Healthcare Business Development for Avigilon, a Motorola Solutions Company. In this role, he serves as Avigilon's Healthcare subject matter expert, advising on product development and assisting the sales team. He has over 25 years of security experience, 18 of which comes at the Director level in healthcare where he was the Safety, Security and Emergency Management Director at Lenox Hill Hospital in New York City, Norwalk Hospital and Waterbury Hospital in Connecticut. Ryan holds a Bachelor of Science in Justice and Law Administration from the Ancell School of Business at Western Connecticut State University. He has held numerous leadership roles within the International Association of Healthcare Security and Safety including Membership Council Chair and currently serving on the Education Council.
Todd Miller, CPP
Regional Director of Security
SSM Health, St. Louis, MO
Former Law Enforcement Professional, FBI Safe Streets Task Force / St. Louis Metropolitan Police Department
Biography:
Todd D. Miller, CPP, is the Regional Director of Security for the SSM Health – St. Louis Region, consisting of 12 hospitals across Mid-Missouri, the greater St. Louis area, and Southern Illinois. He holds a degree from Miami of Ohio in Secondary Education and served as a Special Federal Officer with the FBI St. Louis division Safe Streets Task Force prior to his employment with SSM Health. He transitioned from law enforcement in 2015 to the role of Security Manager for SSM Health – St. Mary's Hospital in St. Louis, Missouri before moving into his current position. He is also currently the co-chair of the Greater St. Louis Healthcare Security Director's Association.
If you appreciated this webcast and want to receive more valuable industry content like this, click here to sign up for our FREE digital newsletters!
Presented by: