Webcasts
Planning for Student-Parent Reunification & Mass Notification During a School Emergency
This free webcast will cover the initial framework for reunification planning, operations, and mass notification during a school emergency.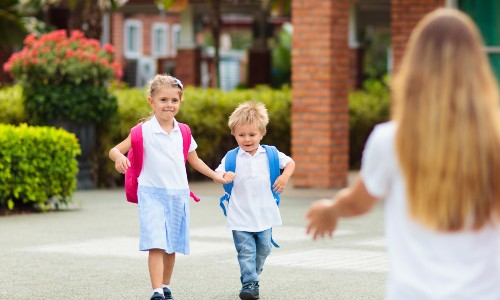 Student-parent reunification is the most complex, least practiced emergency operations process in a K-12 school. It can be particularly daunting during a lockdown or other life-threatening crisis when parents and students are traumatized and afraid.
This free webcast will cover the leading practices developed by the Idaho Office of School Safety and Security, providing a solid initial framework for reunification planning and operations during an emergency. The presentation will also cover how school administrators can more effectively communicate with parents before, during, and after a crisis so the reunification process runs as smoothly and safely as possible.
In this webcast, attendees will learn:
How to account for students during a school emergency, including those who self-evacuate
Reunification lessons from a school active shooter incident

Who should be involved in the reunification process and effective strategies for maintaining calm during an incident

Who should be responsible for communicating with parents during an emergency and the mass notification technologies and strategies that should be adopted
Speakers: 
Guy Bliesner, School Safety and Security Analyst, Idaho Office of School Safety and Security (IOS3)
Guy Bliesner began his career in education in 1994 as a high school teacher and coach, moving into administration in 2006 as the safety and security coordinator for the Bonneville School District. While serving in that position, he was named to the Idaho's Governor's School Safety Task Force. During his Bonneville tenure, he was named a finalist for the 2011 Campus Safety magazine's Director of the Year Award.In 2013 he left the district to form, with a partner, the private school safety, security, risk management consulting firm of Educators Eyes. This firm developed and implemented Idaho's first statewide school safety and security condition assessment. In 2016, he left the firm to join, as a founding member, the newly created Idaho Office of School Safety and Security. He currently serves as the school safety and security analyst assigned to schools in southeast Idaho. His mission is to support the public and charter schools of southeast Idaho to bolster school safety through assessment, training and planning assistance.
Robin Hattersley, Editor in Chief, Campus Safety Magazine
Robin has been covering the security and campus law enforcement industries since 1998 and is a specialist in school, university and hospital security, public safety and emergency management, as well as emerging technologies and systems integration. She joined CS in 2005 and has authored award-winning editorial on campus law enforcement and security funding, officer recruitment and retention, access control, IP video, network integration, event management, crime trends, the Clery Act, Title IX compliance, sexual assault, dating abuse, emergency communications, incident management software and more. Robin has been featured on national and local media outlets and was formerly associate editor for the trade publication Security Sales & Integration. She obtained her undergraduate degree in history from California State University, Long Beach.
Presented By:

If you appreciated this webcast and want to receive more valuable industry content like this, click here to sign up for our FREE digital newsletters!