Accidental Los Angeles Middle School Shooting Injures Five
A 12-year-old suspect has been charged with negligence in connection with the shooting.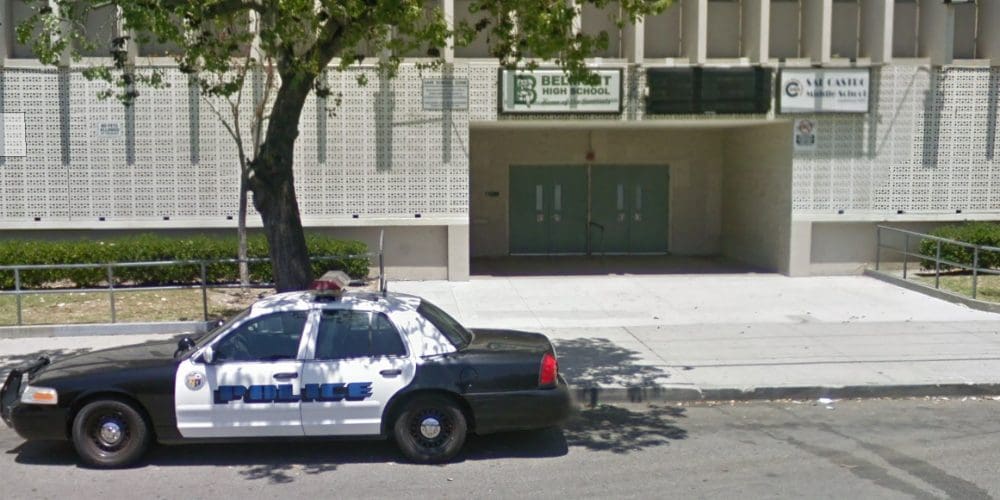 A shooting at a downtown Los Angeles middle school that injured five people yesterday was accidental, police said after booking the suspect.
A 12-year-old girl has been charged with negligent discharge of a firearm on school grounds after a semi-automatic handgun she brought to Salvador B. Castro Middle School went off in a classroom just before 9 a.m. Authorities announced the charges after interviewing the suspect.
Jordan Valenzuela, a 12-year-old student who says he was in an adjacent room when the shooting took place, told the Associated Press he spoke with the distraught suspect after the incident.
"She was like, 'I didn't mean to. I had the gun in my backpack and I didn't know it was loaded and my backpack fell and the gun went off,'" Valenzuela says.
Valenzuela also says the girl asked him to hide the gun for her.
Authorities say the suspect was taken into custody minutes after the shooting without incident.
The school shooting left a 15-year old boy in critical condition with a gunshot wound to his head; a 15-year-old girl in fair condition with a gunshot wound to her wrist; a 30-year-old woman who was not hospitalized with an undisclosed injury; and two other students, aged 11 and 12, with minor injuries after being grazed.
The incident also sparked a lockdown for several hours and left parents shocked and frightened until they were reunited with their children on the school's athletic field.
Salvador B. Castro School, District Security Scrutinized
Multiple parents criticized the school's safety procedures.
Claudia Anzueto, Jordan Valenzuela's mother, characterized the school as "not safe, very insecure" in a phone interview with AP.
"I fear for my son's life," Anzueto says. "You know what I mean, you really hear about things like this in the news, and just to hear that something like that happened so close to home, it scared the life out of me."
Los Angeles Unified School District's security policy requires Salvador B. Castro Middle School, which has about 365 students in grades six through eight, to conduct random searches of students using metal detector wands.
But the Los Angeles Times reports that a 2016 internal audit showed some schools weren't conducting searches daily and about a quarter of the 20 schools surveyed didn't have enough metal detectors. Between 2013 and 2017, L.A. Unified Schools, the nations second largest school district, confiscated an average of 21 guns a year from students. Only one of those guns was found using a metal detector.
One student says Salvador B. Castro Middle School had already conducted security searches that morning.
"They do it every once in a while," Sabrina Colon, 12, says of the security screenings. "They need to do it more often."
People have criticized the district's security policy, which mandates that all middle and high schools conduct security searches of students, for being ineffective and discriminating against minority students.
L.A. Unified board member George McKenna told the LA Times he doesn't think yesterday's shooting will stop the criticism of the policy.
"Some people are anti-police," McKenna says. "They're anti any kind of law enforcement, whether armed or not. They just think it's discriminatory and that it's only done in certain schools, but they offer no solution. They just say we need more counselors. These are unusual circumstances, but they are deadly."
Shooting Raises Gun Safety Concerns
Although authorities are still unsure how the student obtained the gun, Los Angeles City Attorney Mike Feuer says the shooting should act as a reminder to people in the community to follow laws on storing weapons.
"This is a very important call to action to every adult in our community who has a gun," Feuer said. "You must store it safely and keep it out of access for any child to reach. It could result in a tragedy."
Meanwhile Steve Zipperman, chief of the Los Angeles Unified School District police force, says the district's investigation is underway.
"We have laws that mandate that parents who own guns, any adult who owns a gun, any gun owner, has an obligation to ensure that gun is locked inside a home," Zipperman says. "One of the main missions we will have and we will continue to enforce is the issue of finding out how a young person had access to a weapon, and I assure you, if we find out it came from an adult from a home, that the proper prosecutorial procedures will occur."
Zipperman also says the district is focusing on recovery efforts.
"We will attend to the needs of these students who witnessed this very carefully, with the understanding this is very traumatic,"Zipperman says. "We have our school mental health folks that are here to support the needs of the students."
Read More Articles Like This… With A FREE Subscription
Campus Safety magazine is another great resource for public safety, security and emergency management professionals. It covers all aspects of campus safety, including access control, video surveillance, mass notification and security staff practices. Whether you work in K-12, higher ed, a hospital or corporation, Campus Safety magazine is here to help you do your job better!
Get your free subscription today!
One response to "Accidental Los Angeles Middle School Shooting Injures Five"