Real-time Emergency Alerts Come to the Rockies
The state of Colorado is no stranger to campus tragedies. With past incidents like Columbine and Platte Canyon in mind, one school district has implemented a critical response notification system that now delivers targeted information via a variety of devices within seconds – and serves routine school communications as well.
The Weld County Re-8, Colo., school district, headquartered in Fort Lupton, offers its students and staff all the academic resources and professional opportunities of this progressive Rocky Mountain state. But the district must also contend with the tragic legacy of and ongoing challenges posed by the 1999 Columbine shootings and, more recently, another disastrous incident in Bailey, Colo., in 2006 (see 5 Lessons Learned From the Platte Canyon School Shooting for an overview).
But Fort Lupton and Colorado are not unique. Every school in the United States and around the world must be prepared to handle all types of emergencies — from intruders and criminal activity to natural disasters, accidents and epidemics. Putting advanced technology into the emergency planning and response process is both a major benefit and a profound responsibility. Administrators and other officials must choose the best system from among numerous options, according to the district's size, needs and budget.
Director of State and Federal Programs Scott Graham leads a team responsible for crisis planning for the district, which is comprised of more than 2,240 students, 250 staff and professionals, and 15 administrators. "We're a fairly small district," says Graham. "We reside in four buildings, three of which are right next to each other: Fort Lupton High School, Fort Lupton Middle School, Butler Elementary and Twombly Elementary. Naturally, we have a lot of siblings attending these respective schools. We are a very close-knit academic community."
Concerned by what he termed "a number of smaller incidents and threats," Graham and other officials were prompted to commit to an advanced critical response notification solution. "It was imperative to find a system that sent information to the principals of all our schools simultaneously," he says. "If something were to happen in one school — say the high school had to be locked down or evacuated, for example — we'd want to alert the others instantly. So we were looking for a system that we could use not only in a particular building, but across all of our buildings."
"It's the responsibility of school administrators to be proactive about critical response preparedness," says Graham. "And of course, even when you have these systems, you hope you don't ever have to use them." But Graham and his team knew they had to research notification systems to find the ideal fit for their needs, size and budget. The system they sought would enable new levels of incident readiness and real-time, coordinated response, with the ability to send alerts over various devices. Ideally, this new system would also leverage their investment by enabling non-emergency communications.
District Requires Multiple Modes of Message Delivery
The Weld Re-8 District needed a district-wide critical response notification system that was flexible so it could take into account the size and geography of the campuses. To deliver this solution, the district chose Northern California-based REACT Systems Inc.
Graham was impressed that the solution can notify first responders and those at risk within seconds, delivering targeted video, audio and text-based information via any mode of communication. "The biggest thing is that REACT is instantaneous and allows everybody to be notified at the same time — since with other forms of communication a message can degrade as it goes from one person to another. The other advantage is that we have computers in all our classrooms. Alerts can pop up without an E-mail application running on the desktop, and REACT is not limited to any one form of communication, another plus," says Graham.
People can receive a message in many forms, including:
A pop-up notice on their desktop computer
An audio message broadcast over a public address system
A visu¬al electronic wall display
A call on a land line phone
A text message to their cell phone
Messages can be tailored specifically to the recipients based on "who needs to know what." Graham says, "We have various informational levels that we determine and reflect upon in training drills. The information that goes to a principal doesn't have to go out to every teacher, for instance."
Initiation of messages can be set up in advance or sent instantly at the time of a crit¬ical event. Information can be tailored based on geography, job responsibility, authority or any combination that the organization determines. This ability to tailor information provides those receiving the message, whether they be teachers, administrators, security guards or others, with the specific instructions they need to react appropriately to an emergency or busi¬ness situation.
"It is instantly apparent when a message comes in, and it's easy for a teacher to be on top of it at once," says Graham. "Other means aren't nearly so effective; for example, the school intercom really plays a different role in notifications and is not appropriate for most emergency uses. If we are under threat from a perpetrator, we do not want that person to hear evacuation or other instructions to the students and staff."
Message Recipients Get Up-to-Date Information Quickly
Very often in an emergency situation, so much time is spent trying to communicate that it draws people away from their primary responsibility — that of managing the situation and saving lives. Being able to have so many methods of communication saves precious time and enables clarity.
Another key element that helped Graham decide upon the system he chose is its ability to manage a situation over time. "No crisis remains static," he says, "and there are going to be new pieces of information arriving minute by minute." The ability of the system to update quickly and get information out allows those in the field to receive the latest and most accurate, vetted information.
Graham notes that when teachers feel they are in the "circle of communication" they are less likely to create confusion by trying to guess and act on their own without reliable information. Alerts can be established beforehand, and automatic responses can be defined, such as simultaneously notifying classrooms to lock down.
"At Columbine and other places, teachers were too scared to leave their rooms. But if we receive an update, for example, that the perpetrator has been arrested, or that a fire has been contained, we can send them an instant alert and ease the worry.
"One thing we found is that throughout the country these days, in an event of any kind, students get to each other by cell phone faster than administrators, and as a result, a lot of bad information and rumors fly about based on how students are perceiving the situation. The REACT System helps stop rumors from taking off and keeps everyone calm."
The solution's implementation is still in progress, and the establishment of direct communications with police agencies is underway. "We're still working on police participation," says Graham. "Our school resource officer has a local computer at the police station, so when we have something we need to send out, he will be linked to all four schools; information will probably get to him faster than by using 911."
System Helps Manage Parental Response to Incidents
The REACT Systems' ability to deliver vital information by cell phone is also a key element that allows schools to coordinate information that goes to parents. "Often," says Graham, &ldq
uo;parents will hear on the news that an incident is taking place, and they will proceed to the school rather than to the campus muster point, which complicates matters. When informed via cell or home phone, text message or E-mail, parents will know exactly where to go and what instructions to follow."
Instructions may consist of an alert advising them to go to the Web site or to call a certain number. The new emergency alert solution also allows parents to be connected to the school Internet and receive specially tailored information.
"We're in Phase 2 of our implementation," says Graham. "The REACT system is not yet in every classroom, but is in all administration offices; we expect full implementation by the end of the school year."
The Weld County Re-8 School District has established a crisis task force that meets to review policies and coordinate the solution throughout the district and with police and fire departments. In addition, they have included teachers who are also parents. At recent task force meetings, they had a chance to see the alerts and how they work, and Graham reported that "everyone was very impressed and encouraged. They can't wait to get it up and running."
Various training modules are being created, first at the building level, and then throughout the district. "Teachers will have a set number of alerts they can send out in classrooms," says Graham, "and we will devote time in an in-service day of professional development to training on the system. When substitute teachers working for the district come aboard, they go through a brief orientation that familiarizes them with the REACT System. The information track maintained for substitutes by each teacher also contains instructions for use of the system."
One useful feature of the new mass notification system is its panic button, which gives teachers the ability to quickly and discreetly send a message to security or medical professionals who are delegated to respond to an emergency.
"We're very encouraged by this new technology," says Graham. "The truth is, we don't ever want to have an incident where we need this service — but we certainly sleep a little better knowing we have these tools at our command. We're very encouraged by what we've seen so far and definitely look forward to our full implementation."
Routine Communications Now More Efficient, Accurate
In addition to the new system's substantial emergency response capabilities, Graham and his team were impressed with its ability to perform routine notifications. These include registration and scheduling information, news of sports and other campus events, weather, in-service training, regulatory compliance advisories and other non-emergency, yet essential communications.
"The REACT System is not 'overshadowed by crisis,'" says Graham. "We've looked in many places for systems that had this sort of comprehensive communications ability and found they were either too expensive, too complex or just unwieldy. With REACT, we can easily change out information on a daily basis. It's just a great solution for us."
_________________________________________________________________________
District at a Glance
District: The Weld County Re-8 School District is based in Fort Lupton, Colo., which is just east of the Rocky Mountains. The district is small, with just one high school, one middle school and two elementary schools. More than 2,240 students attend the campuses, and 15 administrators as well as 250 staff members work for the district.
Problem: Two school tragedies — the Columbine tragedy in 1999 and the Platte Canyon School shooting in 2006 — occurred in Colorado, and Weld County officials did not want similar incidents to occur on their campuses. Also, the district's intercom system was old. At times it didn't work at the high school and middle school, leaving district constituents feeling disconnected.
Solution: A critical response notification system from REACT that can deliver alerts via a variety of devices.
Results: Emergency and noncritical messages can now be delivered to students, teachers, parents, administrators and others via pop-up computer messages, public address announcements, visual displays, calls on landlines and text messages to cell phones.
_________________________________________________________________________
Community Supports Its Improved Response Program
Gaining the support of the educational community — including administrators, members of the school board, parents, teachers and other community members — is key to improving critical response performance. According to Director of State and Federal Programs Scott Graham, in the Fort Lupton schools, people generally welcome tools that help keep their schools safe and secure. "When we began requiring name badges for all of the students at the high school, we really didn't have any pushback," he says. The same held true for the district's new mass notification system. "As far as parents are concerned, the value of the system spoke for itself, and as teachers and educators, we felt the need just as strongly."
Graham notes that following a failure of the school's intercom system at the high school and middle school, people felt isolated and vulnerable. "It's an older technology, and there are times when it doesn't work properly," he says. "Even after the intercom was fixed, people still wanted to be more securely connected. Also, the way they are built, any room can turn them off, and sometimes people aren't aware of this. So we were ready for a modern notification system with proven reliability."
Currently, the REACT System has been deployed in every office and school, but not yet in every classroom. "We've conducted test scenarios in which we sent out warnings and resolved situations, and we've had no 'pushback' as to performance and ease of use," Graham says. "If anything, people are pushing to speed up full deployment. With only four people in our IT department, that is taking a bit longer."
One way parents can support the new system's success is by making sure their cell phone and other contact information is kept current in the school's directories. REACT System's latest version features an automated notification of failed contacts, so the district can conduct a drill and then contact and update the information of those parents who did not receive the alert.
For the few parents who may opt out of participating in the new system, Graham anticipates they may need to sign a hold harmless agreement.
Maria Ligeti is chairman and CEO of REACT Systems Inc. She can be reached at [email protected].
If you appreciated this article and want to receive more valuable industry content like this, click here to sign up for our FREE digital newsletters!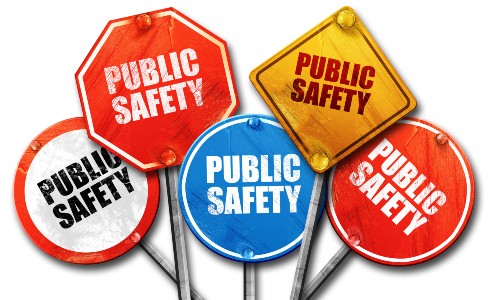 Leading in Turbulent Times: Effective Campus Public Safety Leadership for the 21st Century
This new webcast will discuss how campus public safety leaders can effectively incorporate Clery Act, Title IX, customer service, "helicopter" parents, emergency notification, town-gown relationships, brand management, Greek Life, student recruitment, faculty, and more into their roles and develop the necessary skills to successfully lead their departments. Register today to attend this free webcast!