Will COVID-19 Affect Weapons Detection on Your Campus?
Many hospitals, K-12 schools and colleges use metal detectors, but will the coronavirus have a significant impact on how the technology is used?
Photos and Videos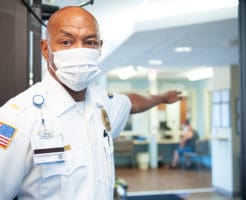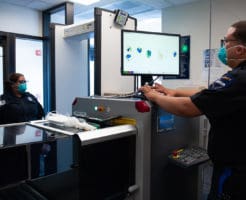 View Slideshow
As K-12 and college campuses make customized plans for reopening in the fall and hospitals continue to treat coronavirus patients, it is becoming increasingly clear that no aspect of campus safety and security will go untouched by the pandemic. Amendments to all policies and procedures have been made and will continue to be made as more information is learned about the virus.
One aspect of campus security not often seen in discussions surrounding the coronavirus are metal detectors — a technology that has already been a contentious subject matter for years. Proponents believe deploying the technology helps with weapons confiscation and deterrence while also helping put peoples' minds at ease. Opponents argue detectors send the wrong message, create a "prison-like" feel and are discriminatory.
And now, thanks to COVID-19, there are even more questions to be considered regarding the technology.
Campus Safety spoke with three practitioners to get their perspectives on top concerns and challenges regarding weapons detection in the era of COVID-19, as well as their predictions for the future of the technology on K-12, higher education and hospital campuses.
Hospitals
Unlike K-12 and college campuses, hospitals have remained open throughout the COVID-19 pandemic. Significant protocol changes had to be made and implemented immediately to protect patients, visitors and staff — including updates to weapons screening policies.
We spoke with Paul Sarnese, assistant vice president of safety, security and emergency management at Virtua Health, about the challenges his officers faced regarding the logistics of people and weapon screening in the early days of the pandemic. Among the most challenging protocols was social distancing.
"Our people and weapons screening areas were not designed with social distancing in mind," he says. "We had to be creative and modify our processes. We would normally allow an entire family to enter our screening space, but with COVID-19, we had to only allow one person in at a time as often as we could to enforce social distancing."
This proved particularly challenging when an adult would come in with a child or multiple children. In these situations, Virtua, which is South New Jersey's largest healthcare provider, chose to allow children to be accompanied by an adult through the screening process in order to reduce anxiety at a time when tensions were extremely high and much less was known about the virus. However, when several adults presented to the emergency department simultaneously, only one would enter screening at a time.
Security officers were given the added responsibility of asking travel history questions to all who entered the facilities to identify if they were at risk of having the virus. They were trained on who to contact if they identified an at-risk patient or guest.
While these additional steps have certainly lengthened the people and weapons screening process, from a positive standpoint, Sarnese says the pandemic has reinforced that security officers are on the frontlines and must be protected. As a result, he believes the use of personal protective equipment (PPE), particularly gloves and face coverings, is likely to become standard for officers. Hand hygiene stations placed outside screening areas are likely to remain as well, he says.
Another silver lining is that signs placed on the floor to provide cues for social distancing have also inadvertently supported the desire to create a pause in between screening guests, giving officers more time to thoroughly screen all visitors.
View the slideshow to see Virtua security officers conducting people and weapons screening during the pandemic.
Predictions for the Future
When asked if he has any concerns regarding the future of metal detection due to the coronavirus, Sarnese says "absolutely not." In fact, he's excited to see the advances in technology that may come from it.
"I believe we will continue to see security technology merge with infection prevention strategies. I believe that people and weapons screening areas of the future will reside in negative pressure spaces to eliminate the exposer to airborne pathogens," he predicts. "Walk-through metal detectors of the future will not only scan for weapons, but will also be equipped with facial recognition and thermal cameras to scan for body temperatures."
When metal is detected, the response would remain the same. However, when an elevated body temperature is identified, the clinical team would be notified, he continues. "The detectors will also keep a running count of the number of elevated body temperatures to provide early warning of a potential community outbreak of a communicable disease."
Sarnese predicts newly constructed vestibules will also be designed with negative pressure and motion detectors that would be activated as individuals approach the space. When someone enters, they would choose their preferred language and their thermal image would appear for security and clinical teams to monitor.
"The 'system' will welcome us and guide us to stand on a spot on the floor to be scanned for weapons/metal and body temperature. If a weapon is detected, the vestibule doors will remain secured and a notification will be sent to security personnel. If an elevated body temperature is identified, the clinical team will be notified," he describes. "Once we are authorized to enter the emergency department, we will be misted with a disinfectant, and then we will be guided by the 'system' to either the red or green waiting areas — red for those with temperatures and green for those without."
K-12 Schools
It is undeniable that the coronavirus has and will continue to significantly affect most K-12 school districts' budgets, including security, which may have an impact on weapons detection.
"Every district we have spoken to has expended considerable funding for COVID-19-related expenses that were not in their annual budget and will continue to do so this school year," says Michael Dorn, executive director of Safe Havens International. "We are already seeing layoffs and elimination of positions in client districts. The superintendents, CFOs and cabinet officials we have been working with are all very concerned that if the economy does not continue to recover, they will face budget cuts due to drops in homeownership and home values as occurred after the 2008 recession."
For many schools that have or are considering weapons detection technology, the cost is arguably the biggest factor slowing its adoption. The cost of the initial purchase of a metal detector is only a fraction of the total resources needed to operate it. With already limited budgets for many, if revenues drop, it could impact the significant staffing levels needed for effective entry point metal detection, Dorn adds.
Limiting Contact Between Staff, Visitors
As we have learned over the last few months, social distancing and limiting physical contact with people is the best way to prevent the disease from spreading. But, even before the coronavirus swept the nation, people were already becoming more conscious of physical contact with others.
"Efforts to reduce the need for 'hands-on' secondary screening without compromising the reliability of screening were a good idea before COVID-19 hit," says Dorn.
Because of this, many campuses were already in the process of upgrading from older weapons detection units to multi-zone walk through units — something that will certainly come in handy with the need to limit person-to-person contact during the pandemic.
Article continues on next page
One response to "Will COVID-19 Affect Weapons Detection on Your Campus?"