Are You Meeting Your Obligation for a Safe Workplace?
Learn how to mitigate the risk of workplace violence with this comprehensive video package brought to you in partnership with The Center for Personal Protection and Safety.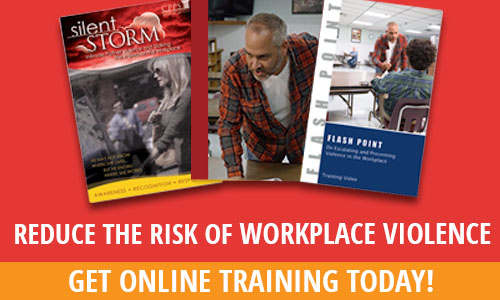 Unfortunately, no place is immune from the threat of a violent attack these days, and that includes your workplace.
Workplace violence can take many forms, including threats, harassment, bullying and stalking before it escalates into a violent outburst. Domestic abuse presents another workplace threat for employees with a co-worker in an dangerous situation at home.
With proper training, it's possible to intervene BEFORE a situation becomes deadly.
To equip co-workers with the skills they need, Campus Safety is presenting three videos in our "Workplace Violence Package." Also developed by the security experts at the Center for Personal Protection and Safety, the videos are:
"Flash Point: Recognizing and Preventing Violence in the Workplace"
"Silent Storm: Intimate Partner Violence and Stalking, Impact on the Workplace"
The workplace violence videos present a comprehensive approach that addresses:
Prevention: You'll learn what warning signs to look for so you can report disturbing behavior from an employee and possibly prevent a violent incident BEFORE it happens.
Situational Awareness: Being aware of your surroundings gives you the knowledge you need to notice someone acting suspiciously, to detect unattended packages and to be aware of escape routes.
The Danger of Domestic Violence: Domestic violence frequently spills into the workplace as abusers know that's one place they can find their victims, especially once the partner has left the abuser. Find out the signs of domestic abuse and what you can do.
Learn more to strengthen your level of safety in the workplace.
---
Campus Safety Online Training
Whether you are a public safety official, security director, emergency manager, administrator or consultant, our growing library of online training will help you conduct more meaningful, low-cost and frequent trainings for you and your organization. We offer a wide-range of training and scenario programs on active shooter prevention and response, terrorism, communication, mental health, technologies, compliance and more! Our affordable online training programs are easy to use, will save you time and money, but most importantly, will help make your campuses even safer places to work and learn. Visit Campus Safety HQ to learn more!
Read More Articles Like This… With A FREE Subscription
Campus Safety magazine is another great resource for public safety, security and emergency management professionals. It covers all aspects of campus safety, including access control, video surveillance, mass notification and security staff practices. Whether you work in K-12, higher ed, a hospital or corporation, Campus Safety magazine is here to help you do your job better!
Get your free subscription today!