Highlights from the Final Report of the Federal Commission on School Safety
Don't have time to read the 180-page Federal Commission on School Safety final report? Here's what's important for school security professionals to know.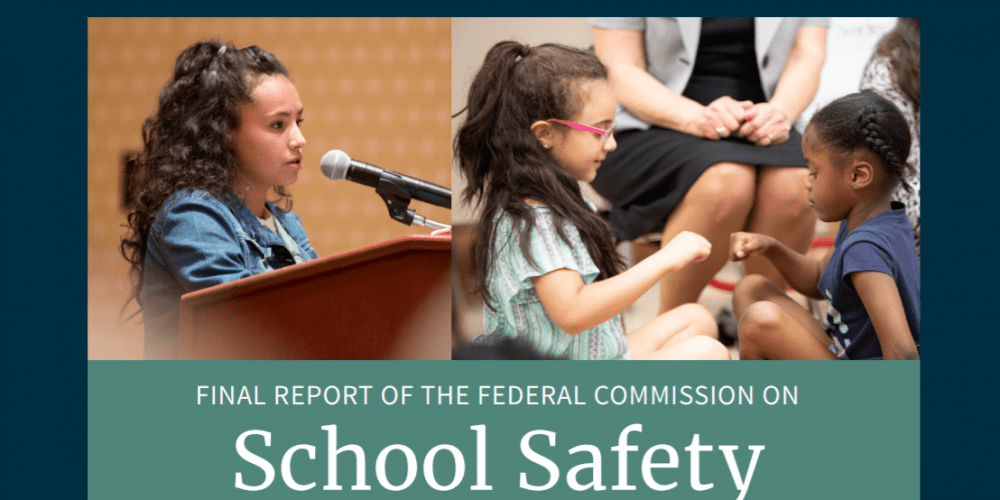 Active Shooter Preparedness and Mitigation
Reports prepared in the aftermath of school shootings have universally recognized the value of preparing for a potential active shooter incident and other mass casualty events through training, planning, and related strategies.
The unique characteristics of K–12 school environments, including campus layout and building design, present complex challenges to active shooter planning. Therefore, approaches to address active shooter incidents at schools must be specific to each school's unique environment. Numerous factors should inform the design of a school's active shooter preparedness program. They include the following.
Age: Students in grades K–12 typically range in age from five to 19, presenting unique challenges for each age group. Elementary students, for example, are unable to understand and respond to an incident in the same manner as a high school student. Therefore, age is often an important consideration in how to discuss awareness campaigns and response methods with students. While the "Run, Hide, Fight" approach for reacting to active shooter incidents is widely taught nationwide, the "Fight" portion of the campaign may not be appropriate for all age groups and may require modification to ensure younger students better understand, respond, and react to an active shooter. Federal, state, and local governments as well as associations and nonprofits have developed approaches tailored for children to respond to active shooter incidents. Individual levels may vary due to the unique developmental, cultural, educational, and personal profiles within a community or classroom. School communities and parents, in partnership, should consider the individual psychological backgrounds and educational needs of students when determining awareness levels as well as appropriate education and training.
School Design: A school's design will have a great impact on how it prepares to prevent, protect, mitigate, respond to, and recover from active shooter incidents. Suburban schools often have campus-style environments with multiple buildings, while urban schools tend to consist of single multi-level buildings. Campus-style schools can be more difficult to secure, as the dispersed school buildings are exposed to attacks from multiple directions. A more compact organization of buildings or a single building provides for more streamlined surveillance and access control.15 The level of security in individual classrooms (e.g., strength of classroom doors and locks, presence or absence of windows with lines of sight) may influence decisions on active shooter preparedness, as can the existence or absence of layers of security to delay potential attackers.
Student Background and Special Needs: Students come from a variety of family, cultural, and medical disabilities and medical history backgrounds. This presents additional considerations for school safety and security. According to the most recent data provided by the National Center for Education Statistics, approximately 4.8 million public school students identify as English language learners, and 6.7 million students received special education services in 2015. Active shooter awareness and response communications, training, and planning should take language differences and disabilities into consideration to include the entire student population.
Laws and Policies: Schools may need to follow different rules than businesses when implementing security policies. Schools are not only responsible for training and keeping students safe, but also for leading students in an emergency. State and local laws as well as school policies concerning security and response vary nationwide, and schools should be aware of the regulatory responsibilities imposed upon them in their jurisdictions.
Through its various engagements with school safety and security stakeholders, the Commission identified a variety of elements and approaches that experts routinely recommend schools incorporate when developing their active shooter preparedness and mitigation program. These include physically hardening the school, engaging in community planning, encouraging and facilitating the reporting of suspicious behavior, conducting training and exercises, maintaining and testing effective communications systems, and establishing threat assessment teams. Each of these key elements are summarized below.
School Hardening: There are several core parts of a comprehensive active shooter preparedness strategy. They include security measures that help control access to the school and its campus, physically strengthen the building, and seek to create secure spaces within classrooms where students and teachers can shelter in the case of an active shooter. These measures can deter an attacker from initiating an attack, protect individuals during an attack, and delay the attacker to allow additional time for local law enforcement to respond.
Community Planning: As of the 2015–2016 school year, 92.4 percent of public schools reported having written plans to address a shooting on campus. It is beneficial for schools to establish safety planning teams that include school administrators, teachers, parents, students, and other community partners. This approach ensures a multi-disciplinary, multi-perspective methodology that reflects the community's values, priorities, and unique needs, thereby increasing the chances of implementation success. Whole community planning should happen concurrently, and be coordinated, at the school district and individual school levels.
Identification and Reporting of Suspicious Behavior: Physical protection measures only go so far when it comes to preventing an active shooter incident. Potential warning signs are not always the result of a direct threat—more often, there is observable conduct that could signal a threat. Detecting and addressing concerning behavior, thoughts, or statements can prevent active shooter situations from occurring.
Training and Exercises: It is widely agreed that a robust training and exercise program is essential to successfully addressing the complex active shooter threat. Law enforcement and school officials should train together to respond to emergencies.

Active shooter training for students should be age-appropriate and consist of prevention, situational awareness, and response training. School administrator and teacher training should include tabletop exercises (i.e., group exercises that do not involve hands-on practice or fieldwork, but rather are intended to generate discussion of issues surrounding a hypothetical, simulated emergency) with school safety and security teams. When possible and age-appropriate, response training for school administrators, teachers, and students should involve role-play, scenario-based training that simulates a real-life active shooter incident requiring quick decision-making. To the extent possible, all active shooter trainings, especially those related to responding to and recovering from an active shooter incident, should be trauma-informed.
In addition to active shooter training, it is important for school staff and students to be trained on and follow appropriate security protocols.

Communication Systems and Protocols: The ability to communicate quickly and effectively often is central to a successful response to an active shooter incident. This includes the ability of school staff or students to quickly inform law enforcement of an active shooter situation, thus initiating the law enforcement response; the ability to quickly alert staff, students, and other members of the community of an ongoing active shooter situation in order to initiate a lock down, evacuation, or other appropriate action; and the ability for law enforcement to communicate among themselves and with the school as necessary during a response. Unfortunately, there are "communication-related problems that impede law enforcement during all tragedies, including [the Parkland school shooting]."These may include outdated or insufficient communications equipment (e.g., radios or phones that do not receive signals inside school buildings), lack of training on existing communications equipment or protocols, and a lack of interoperability between the communications equipment possessed by first responder organizations and the school.

In regards to notifying law enforcement of an active shooter, Sheriff Tim Troyer told the Commission that calls to 911 typically occur two to three minutes after the start of an attack. As was the case in Parkland, 911 calls are often indirect calls (e.g., made by parents of students who had called their parents rather than law enforcement).28 In order to reduce this delay in notification, Troyer recommended that schools implement mechanically simple means of notification that contact the 911 center directly. One school accomplishes this by having teachers wear an emergency fob around their neck that they can press in the event of an active shooter incident, immediately triggering a school-wide alarm and notifying law enforcement.
Schools should consider establishing, maintaining, testing, and training on communication technology and protocols (e.g., emergency alerts, mass notifications, intercom announcements) that can alert both staff and students, as well as parents and the broader local community, of an active shooter situation. Within schools, it is best if alerts are both audible and visual, and can be seen and heard throughout the entire school grounds.
Finally, schools should consider working with local law enforcement to test, drill, and exercise the communications equipment first responders will be using during a response to ensure its adequacy. Often, the hardened physical construction of school buildings can make radio or phone communication within the school buildings difficult. Communications equipment that does not properly function within the school will be of extremely limited value during a response. Additionally, interoperability of communications equipment, which was a problem during the 9/11 attacks, remains a problem today. For instance, during the response to the Parkland shooting, a lack of interoperable equipment forced law enforcement to resort to hand signals. States and localities can take action to help address these concerns.

Threat Assessments: Numerous witnesses stressed to the Commission the importance of schools establishing threat assessment teams. Threat assessment teams are most effective if they are multi-disciplinary and include a diverse group of stakeholders, such as school counselors, school resource officers, teachers, and school administrators. Parents and students are not typically part of the threat assessment team, as personal and confidential information about a student is often discussed.
Active shooter preparedness training, exercises, and workshops
Training for active school shooter scenarios should be designed with the audience receiving the training in mind, whether they are students, teachers and school administrators, or law enforcement officers.
Students: While there is some disagreement over whether it is appropriate to subject students to active shooter training, as school shootings become more prevalent, more schools are opting to drill their students on how to respond to an active shooter situation. According to a 2016 U.S. Government Accountability Office report, an estimated 67 percent of school districts conduct active shooter drills involving their students. Whether or not to conduct active shooter drills with the student population is something each community must determine for itself. For those that do elect to conduct active shooter drills with students, they should ensure that the training is age-appropriate and designed in a manner not to unduly traumatize any of the participants.
Staff: All schools should consider providing active shooter training to teachers and other on-site personnel. The most effective way to train staff to respond to an active shooter situation is to conduct mock active shooter training exercises. Local law enforcement is an excellent resource in designing training exercises. Training should include discussions on recognizing the sound of gunshots, the "Run, Hide, Fight" or similar approach used in the school, calling 911, reacting when law enforcement arrives, and adopting a survival mindset during times of crisis.
Some school districts have developed videos to supplement training for school staff. Videos  can also reinforce other school safety practices.
Both the U.S. Department of Homeland Security Federal Emergency Management Agency's (FEMA) Emergency Management Institute and the U.S. Department of Education's Readiness and Emergency Management for Schools (REMS) Technical Assistance Center provide a variety of training programs for school staff and other members of the school community on how to prepare for emergencies at schools. They include "Preparing for Emergencies—What School Staff Need to Know," "Multi-Hazard Emergency Planning for Schools," "Developing Emergency Operations Plans K–12 101," and "Preparing for Mass Casualty Incidents: A Guide for Schools, Higher Education, and Houses of Worship." Most of these courses provide instruction applicable to both natural and human-caused events, including active shooter situations.
Law Enforcement Officers: Both the U.S. Department of Homeland Security and the U.S. Department of Justice manage numerous programs to help train federal, state, local, and tribal law enforcement officers for active shooter situations. They include the Department of Homeland Security's Federal Law Enforcement Training Centers (FLETC) Active Threat and Tactical Medical Training, FEMA Emergency Planning for Schools, the Department of Justice's Office of Community Oriented Policing Services (COPS) Preparing for Active Shooter Situations (PASS) Training Program, the Federal Bureau of Investigation's Active Shooter: Managing the Mass Casualty Threat DVD, the Federal Bureau of Investigation's Crisis Communications Quick Reference Guide and the Federal Bureau of Investigation's Initial On Scene Command Considerations.
Tactical Emergency Casualty Care/Mass Casualty Response Training: In active shooter situations, providing rapid medical care to the injured is critical. If students and personnel are seriously injured and do not receive aid in a timely manner, they may die before first responders are even able to enter the building. However, if the students and staff around them can provide appropriate first aid, they may buy the injured time. The Tactical Emergency Casualty Care (TECC) framework outlines how best to do this. There are three components to a successful First Care Provider program: policy, training, and equipment.
A number of resources are available to help school districts or individual schools design TECC training programs. They include Tactical Emergency Casualty Care Guidelines for First Care Providers, You Are the Help Until Help Arrives, Introduction to Tactical Emergency Casualty Care and Stop the Bleed.
Exercises and workshops
Exercises and workshops help evaluate the success of training, maintain optimal levels of performance, and test and evaluate plans. A well-designed exercise provides a low-risk environment to test capabilities, familiarize personnel with roles and responsibilities, and foster meaningful interaction and communication across organizations. Workshops are a type of discussion-based exercise focused on increased participant interaction and focusing on achieving or building a product, such as a report or best practices documentation. Both formats can enhance the security of schools and safety of students across the nation by empowering states and school districts to put their emergency plans.
One of the most commonly used approaches to evaluate active shooter preparedness is through tabletop exercises (TTXs). TTXs are table-based activities typically held in an informal setting and presented by a facilitator. They do not involve hands-on practice or fieldwork, but rather are intended to generate discussion of various issues regarding a hypothetical, simulated emergency. TTXs can be used to enhance general awareness, validate plans and procedures, rehearse concepts, and/or assess the types of systems needed to guide the prevention of, protection from, mitigation of, response to, and recovery from a defined incident. Delivered in a low-stress environment, the TTX offers participants the opportunity to explore different ideas in the context of a real-world scenario.
When designing TTXs, other exercises, or workshops to evaluate active shooter preparedness, designers should consider following the Homeland Security Exercise and Evaluation Program (HSEEP) approach. HSEEP provides a set of guiding principles for exercise programs, as well as a common approach to exercise program management, design and development, conduct, evaluation, and improvement planning. Principles include using capability-based and objective-driven exercises informed by risk, engaging the whole community, and designing a progressive program with an increasing level of complexity over time. These can help a school or school district develop an effective exercise program. HSEEP also calls for the documentation of strengths, areas for improvement, core capability performance, and corrective actions in an After-Action Report or Improvement Plan. Through improvement planning, organizations take the corrective actions needed to improve plans, build and sustain capabilities, and maintain readiness.
DHS offers a variety of exercises and workshops to assist schools, local law enforcement, and others prepare for active shooter situations. They include Active Shooter: What You Can Do; Campus Resilience Program Tabletop Exercises; and DHS Active Shooter Preparedness Workshop.
Recommendations
Federal government
DHS, in coordination with other federal agencies, should develop active shooter preparedness training guidelines for educators and administrators, including recommended minimum standards for teacher certification requirements.
In order to assist schools in deciding the optimal approach to preparing students for active shooter situations, federal agencies should work with school security stakeholders to identify and develop recommended, age-specific best practices or options for consideration for active shooter training and exercises for students spanning the K–12 spectrum.
DHS should develop options for expanding its offerings of TECC training, including train-the-trainer opportunities. Additionally, the federal government should review how grants are allocated to determine if there is a way to better support schools seeking to procure and preposition medical equipment needed to respond to a mass casualty event.
States and local communities
States should consider requiring or providing funding for all school districts and individual schools to develop and (on no less than an annual basis) provide training and exercises on comprehensive active shooter preparedness programs.
Teacher preparedness is critical to school security, especially in cases of an active shooter. As every state requires teachers to meet certain requirements for certification to teach in their state, it is recommended that states and school districts consider requiring basic school security and/or active shooter preparedness training as part of their state's teacher certification requirements.
All schools should conduct active shooter training and exercises for staff on a recurring basis as well as age-appropriate active shooter training for students. Exercises might include evaluations that assess the participant's ability to meet exercise objectives and capabilities, and document strengths, areas for improvement, core capability performance, and corrective actions in an After-Action Report or Improvement Plan. Following the exercise, organizations should develop a plan to implement the corrective actions identified during the exercise to improve plans, build and sustain capabilities, and maintain readiness.
Providing TECC training to school staff and maintaining appropriate, rapidly accessible medical equipment within schools is a proactive means of reducing loss of life in active shooter scenarios and other potential mass casualty incidents. School systems should provide TECC training to school staff or provide funding for school staff to complete TECC training. Schools should review existing medical equipment within the school and, to the extent possible under existing school budget conditions, maintain appropriate medical equipment consistent with the TECC training.
Effective communication systems and rapid dissemination of information can save lives during an incident or event. Schools should establish and maintain effective communications systems (e.g., one-way intercoms or two-way radios) to rapidly provide alerts, warnings, or other key information during an incident. Schools should test their communications equipment and methods during training and exercises. States and localities should also undertake efforts to ensure interoperability of local law enforcement and school communications equipment.
If you enjoyed this article and want to receive more valuable industry content like this, click here to sign up for our FREE digital newsletters!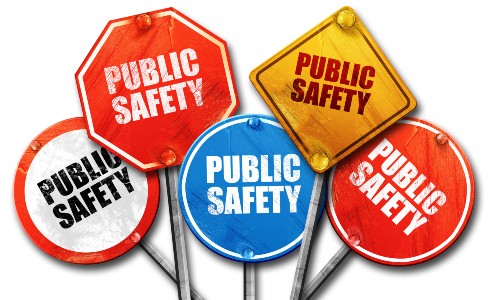 Leading in Turbulent Times: Effective Campus Public Safety Leadership for the 21st Century
This new webcast will discuss how campus public safety leaders can effectively incorporate Clery Act, Title IX, customer service, "helicopter" parents, emergency notification, town-gown relationships, brand management, Greek Life, student recruitment, faculty, and more into their roles and develop the necessary skills to successfully lead their departments. Register today to attend this free webcast!
4 responses to "Highlights from the Final Report of the Federal Commission on School Safety"