Highlights from the Final Report of the Federal Commission on School Safety
Don't have time to read the 180-page Federal Commission on School Safety final report? Here's what's important for school security professionals to know.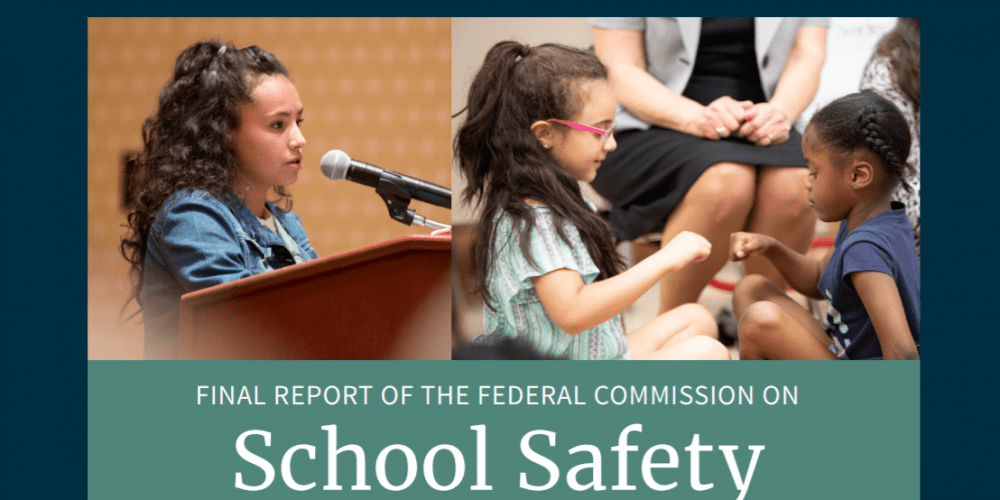 Best Practices for School Building Security
The Commission identified various components of an effective approach to enhancing the security of schools. These include practices that have proven successful at either the school, school district, or state government level. Special emphasis was laid on proven plans to establish a sound security management program and enhance physical security at access points (including building façade) and in the context of the classroom.
Security management team
To oversee proper development and implementation of a comprehensive school safety and security program, school districts and individual schools should consider first establishing a security management team and designating a team lead. The team should include individuals with a management, oversight, or other significant role in the security of the school, such as the principal or vice-principal, the designated emergency manager, and, if the school has one, the school resource officer.
In addition, every school district and individual school should try to develop a coalition from the community for the common purpose of enhancing the safety of students and the security of schools.
A school's security community of interest begins with its teachers, administrators, counselors, other staff, parents, and students, and also includes external partners like local first responders, social workers and elected officials. These groups can collaborate to develop emergency operations plans that establish protocols for handling all types of potential hazardous incidents, including natural disasters, accidents, and deliberate attacks like an active shooter. A strong coalition can help carry the message to the rest of the community and minimize resistance to necessary security measures.
A school's security management team should first consider conducting a risk assessment to determine needs, identify vulnerabilities, and develop a security strategy. A risk assessment can be conducted internally, in conjunction with local law enforcement, or by a specialized third party security firm.
Emergency operations plan
A school's emergency operations plan should center on regular engagement between schools, school districts, and first responders. Collaboration increases the efficiency and effectiveness of response to school-based incidents by providing first responders with the information required to navigate and secure a campus during an incident. Any reduction in the time between the beginning and end of an incident can save lives.
Emergency operations plans must describe the actions that students, teachers, and school staff will take during an emergency. Actions may differ significantly depending upon the type of emergency. These differences should be outlined clearly according to the different threats and hazards. Everyone in the school should have a common understanding of what will be expected of them during an emergency—students, teachers, and school staff as well as parents, substitute teachers, coaches, and any contracted workers on the school campus. All areas of the school should be included in the planning, such as auxiliary locations for which the school is responsible and for any events that occur outside of regular school hours or school days.
Informing students, teachers and school administrators of the practices outlined in a security or emergency operations plan is just as important as developing the plan in the first place. Training provides the most effective way of educating everyone on their roles and responsibilities during an emergency. An effective plan requires meticulous practice and stakeholders trained in executing the plan
Building hardening and other physical improvements
Three key areas comprise the physical aspects of schools: the campus, the buildings on the campus, and the classrooms in the buildings. When implemented as part of a security strategy, measures specific to each of these parts of schools can enhance the overall security posture of a school. When designing a physical security plan, schools should keep in mind certain principles, such as respecting the school's primary mission, incorporating a layered approach to security and access control – limited entry points.
By applying the principles of Crime Prevention Through Environmental Design, schools can implement security measures such as fencing, bollards, planters, curbs, or walls to create a single point of entry to the campus, for both vehicles and pedestrians. This allows school staff to more effectively monitor every individual who comes onto the campus.
Access Controls—Video Surveillance: Video surveillance is a valuable security measure for entry control. Surveillance cameras can also be used beyond entry points to monitor areas that are not within the normal view of teachers, administrators, or security personnel, such as hallways and enclosed stairwells. When feasible, school security personnel or other staff should actively monitor video feeds, and the local first responder community should have access to them. Schools sharing video feeds with local law enforcement or others should ensure they are complying with all appropriate privacy laws, such as the Family Educational Rights and Privacy Act (FERPA), when doing so.
Access Controls—Screening Systems: Some schools may also wish to use screening systems to limit who and what can enter a building. These systems typically require one-at-a-time entry to check the person and belongings. Such systems can use metal detection, X-ray, explosives detection devices, or a physical search. The purpose of screening is to prevent illegal or prohibited items from entering any given facility, and there is evidence that supports the efficacy of screening as a method to detect, deter, or deny violent actors. However, these screening systems are labor-intensive, time consuming, and costly. The cost of a retrofit of a school or the time it takes to admit students into the building in accordance with screening procedures may be impediments to implementation. The impact of metal detectors, X-ray machines, and similar screening technologies on school violence is questionable, with at least one study concluding that metal detectors have no apparent effect on reducing violence on school grounds.
Building Envelope: The exterior face of school buildings, including the walls, roof, windows, and doors, comprise the building envelope. Much like in a classroom, these structural components can serve as a significant layer of defense from an incident or natural disaster. In particular, construction materials for doors and windows influence the effectiveness of these features in deterring, delaying, or denying active-shooter attacks. Doors constructed primarily with wood and non-reinforced glass windows offer a lower degree of protection than doors made from steel with blast or bullet-resistant glass windows. Replacing wood framed doors with fire-rated steel or aluminum can improve the level of protection offered. Replacing any non-reinforced glass windows with tempered, wire-reinforced, laminated, or bulletproof glass and applying blast-resistant safety films can strengthen windows to increase the protection they provide. Securing exterior windows so that individuals cannot use them to access a building can also improve the overall security of the building. In addition, clearing the exterior spaces surrounding school buildings of unnecessary foliage or structures may also eliminate spaces that could conceal illicit activity, provide access to the building above the first floor, or otherwise aid an intruder or attacker's efforts.
Classroom Doors, Locks, and Window Panels: Depending on their construction and configuration, classroom doors can significantly delay or prevent an attacker from reaching individuals within a classroom, thereby providing a safe area for students and staff during a lockdown. Much like the building envelope, the material from which doors are made will greatly affect their protective value. Reinforcing existing doors or replacing them with bulletproof doors can be very costly, but is an investment that some schools and school districts are making.
Regardless of the type of door used, all classrooms should have locks that allow the teacher to lock the classroom door from the inside. Locksets installed on classroom doors should have the ability to be opened from outside the classroom using a key, code, credential, or other method of deactivation. This enables teachers, administrators, and first responders to access the classroom, but not an attacker or intruder. When deciding on a locking device school officials must be aware of, and comply with, fire codes, life safety codes, and Americans with Disabilities Act (ADA) requirements.38 In addition to the physical locking hardware, training and continued reinforcement of their use is important to get the full benefits of locks. Entry control technologies such as locks can be (and have been) rendered useless by individuals not adhering to proper security processes, such as by propping open doors for convenience or other reasons.
Many school doors have windows that allow someone outside the door to observe the inside of the classroom. These windows should be protected or reinforced and have a removable covering that can be quickly applied that obscures visual observation from both sides. Additionally, windows often are located on the door in a position where an attacker could smash the window to gain access to the door's locking mechanism. Schools can address this by installing reinforcing film that strengthens the glass or using doors designed in a way that a breach of the window will not provide the attacker the ability to access the locking mechanism and unlock the door.
Other measures can be taken to keep students and staff beyond the line of sight and line of fire of an attacker seeking to cause harm through the door window. One school district in southern Ohio has installed hurricane-type screening on door windows in its schools. These retractable screening devices prevent an outside observer from seeing into a room as they allow observation in a straight line only, thereby narrowing the field of view from outside of the classroom. Another approach some schools use is to place tape on the floor of the classroom designating areas of the classroom that cannot be seen through the door window. Students are trained to congregate in those designated areas during lockdowns.
Door Numbering Systems: School buildings come in all shapes and sizes with many entrances and exits. To help first responders gain access to an incident scene in the most efficient manner, schools can collaborate with local first responders to apply a common numbering system to the walls, doors (interior, exterior, and non-access), roof hatches, and stairwells. At present, 20 states provide recommendations and resources to schools about this practice via their Statewide School Safety Centers.
Hallways, Stairwells, Utility Rooms, and Other Areas: Each building will have certain areas that are more difficult than others to monitor, such as hallways, stairwells, and utility rooms. Although data about the location of school violence within a school is limited, there is some indication that students feel the least safe in areas with minimal adult oversight and that violence is most prevalent in areas like hallways and stairways that are least monitored. Similarly, spaces behind ceiling panels or walls can be easily accessed but prove difficult to monitor and can serve as staging areas for contraband or hiding places for intruders. Developing or installing systems to monitor these spaces by either physical inspection or surveillance cameras may be necessary to mitigate their use for nefarious purposes. Eliminating non-structural elements of ceilings and walls such as removable panels may help to serve the same purpose.
Portable Classrooms: Portable buildings that are used for classrooms can present unique challenges because they frequently do not have the same construction features as the primary buildings, resulting in windows and doors with lower levels of security. They might also be located in less secured areas that provide easier access to an attacker. If a school has portable buildings (and eliminating their use is not practical), additional security measures may be warranted, including increased monitoring, assigned security personnel, retrofitting doors and locks, or ballistic protection on the windows.
Recommendations
Federal government
One of the biggest concerns raised by schools and school districts since the Parkland shooting has been their inability to easily sift through the multitude of security options, equipment, technologies, etc., that are available to their schools. As a way to address this, many individuals in the school security community have suggested the establishment of a federal clearinghouse that could assess, identify, and share best practices on school security. The federal government should develop a clearinghouse to assess, identify and share best practices related to school security measures, technologies, and innovations.
To assist schools and school districts in performing risk assessments and developing emergency operation plans, the U.S. Department of Homeland Security (DHS) should periodically update and provide training on its K–12 School Security: A Guide for Preventing and Protecting against Gun Violence (including the associated security self-assessment) and, along with its interagency partners, the Guide for Developing High Quality School Emergency Operations Plans. In addition, DHS should develop options for the creation of a train-the-trainer program to push expertise out into the states and localities to help school districts and individual schools complete these activities.
DHS, in partnership with the U.S. Departments of Education and Justice, should explore legislative, regulatory or procedural modifications to existing grant programs to enable more grant funding or related resources to be available for enhancing school security operations and physical infrastructure. As part of this, DHS should explore designating a portion of Homeland Security Grants for school security activities, and premise the use of those funds on activities that accomplish enhancements recommended in DHS guidance or standards.
States and local communities
Schools or school districts should establish a security management team with a designated lead official to oversee security efforts. States and localities should consider supporting these efforts by providing dedicated funding for security management teams. States and localities should also consider requiring school districts or the individual schools within their jurisdiction to establish security management teams. Once established, these teams should work to develop a school security community of interest by engaging the school's teachers, administrators, counselors, and other staff, parents and students, and external partners like local first responders, social workers, and elected officials.
Schools should conduct a risk assessment or have a risk assessment performed in order to identify existing vulnerabilities and support the development of a strategy to address security gaps. To do this, schools could use the security self-assessment that DHS released along with its K–12 School Security: A Guide for Preventing and Protecting against Gun Violence or another assessment methodology (or they could work with a third party to conduct the assessment for them). States and localities should consider supporting these efforts by providing dedicated funding for the performing of school risk assessments. They can also consider requiring individual schools within their jurisdiction to complete risk assessments.
All school districts and/or individual schools should develop and implement emergency operations plans in accordance with the Guide for Developing High Quality School Emergency Operations Plans, or other similar guidance. Indeed, according to a U.S. Government Accountability Office's 2015 survey of the 50 states and the District of Columbia, only 32 of the 51 state education departments surveyed indicated that their state required school districts to have emergency operations plans. When designing their security and emergency operations plans, schools should consider security for before school, after school, during extra-curricular activities, and other times when classes are not in session. States and localities should consider supporting these efforts by providing dedicated funding for the development and implementation of emergency operations plans. States and localities should also consider requiring individual schools within their jurisdiction to develop and implement emergency operations plans.
Following the completion of a risk or vulnerability assessment to determine what risks and security gaps exist in the school's current building security program, schools should take steps to address those gaps. In doing so, they should design security measures in a way that achieves security goals without requiring sacrifices to the school's primary educational and developmental missions. Every school is different, and, therefore, the protective measures in place will vary based on the characteristics of the site, location, resources, and personnel available. Schools should make sure to take into account their unique physical characteristics when designing a security plan. School security plans should use a layered approach across all three areas of a school (i.e., the entry points, the building envelope, and the classroom) with measures designed to complement and support each other. Schools also should consider the special needs of the student population and other individuals who access the school to ensure security measures, emergency notifications, and response plans are effective and account for all.
4 responses to "Highlights from the Final Report of the Federal Commission on School Safety"