Highlights from the Final Report of the Federal Commission on School Safety
Don't have time to read the 180-page Federal Commission on School Safety final report? Here's what's important for school security professionals to know.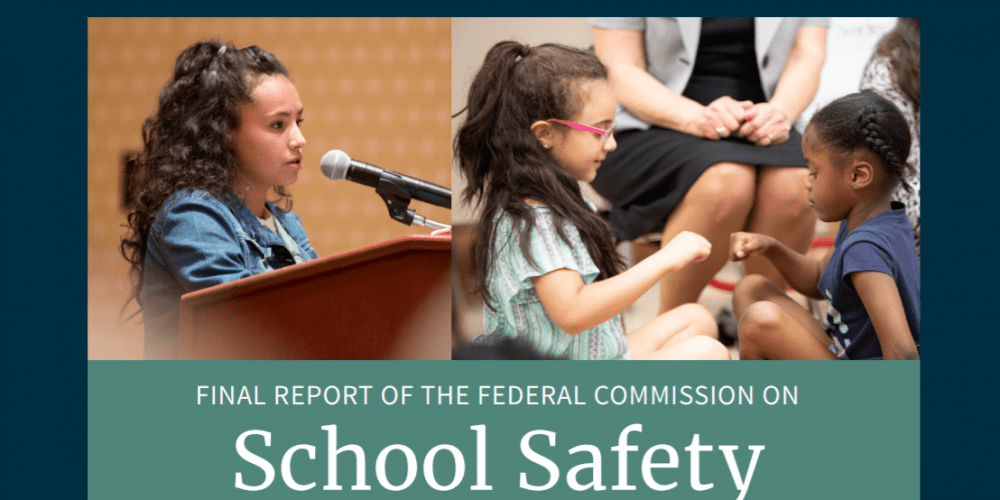 The Obama Administration's "Rethink School Discipline" Guidance
Policy guidance issued under the Obama Administration placed an emphasis on tracking school disciplinary actions by race. That guidance, set forth largely in a Dear Colleague Letter and other sub-regulatory documents (hereinafter collectively "Guidance"), suggests that even facially neutral school discipline policies may violate federal law if they have a "disparate impact" upon members of certain racial groups in rates of suspension, expulsion, or referral to law enforcement. The Guidance further communicates that such outcomes could give rise to an investigation by the U.S. Department of Education, putting a school at risk of losing federal funds.
As written and implemented, the Guidance has been criticized on three primary grounds. First, it creates a chilling effect on classroom teachers' and administrators' use of discipline by improperly imposing, through the threat of investigation and potential loss of federal funding, a forceful federal role in what is inherently a local issue. Second, authorities, including the United States Supreme Court, have questioned the applicability of a disparate impact legal theory to Title VI of the Civil Rights Act of 1964, upon which the Guidance relies, thus calling into question its legal basis in the school discipline context. Third, the threat of investigations by the Office for Civil Rights (OCR) under sub-regulatory documents such as the "Rethink School Discipline" Guidance has likely had a strong, negative impact on school discipline and safety.
When there is evidence beyond a mere statistical disparity that educational programs and policies may violate the federal prohibition on racial discrimination, this Administration will act swiftly and decisively to investigate and remedy any discrimination. At the same time, the federal government must also ensure that its policies and actions protect student safety, including when it is acting to ensure that educational programs and policies are administered in a racially neutral fashion. Where well-meaning but flawed policies endanger student safety, they must be changed.
The [Obama administration] Guidance sent the unfortunate message that the federal government, rather than teachers and local administrators, best handles school discipline. As a result, fearful of potential investigations, some school districts may have driven their discipline policies and practices more by numbers than by teacher input. School discipline is a complex issue that is affected by local circumstances. For example, there may be other reasons for disparities in behavior if students come from distressed communities and face significant trauma. Local solutions are best suited for dealing with the unique needs of local communities.
Recommendations
Federal government
The Commission is deeply troubled that the [Obama administration] Guidance, while well-intentioned, may have paradoxically contributed to making schools less safe. Significant concerns also remain regarding the legal framework upon which the Guidance is based. These concerns, together with the repeated concerns expressed by many that disciplinary decisions are best left in the hands of classroom teachers and administrators, warrant rescission of the Guidance. The Commission thus makes the following recommendations:
The U.S. Department of Justice (DOJ) and the U.S. Department of Education (ED), should rescind the Guidance and its associated sub-regulatory guidance documents. ED should develop information for schools and school districts that will identify resources and best practices to assist schools in improving school climate and learning outcomes as well as in protecting the rights of students with disabilities during the disciplinary process while maintaining overall student safety.
DOJ and ED should continue to vigorously enforce Title VI of the Civil Rights Act of 1964 and provide appropriate information to assist schools and the public in understanding how ED will investigate and resolve cases of intentional discrimination.
The Effectiveness and Appropriateness of Psychotropic Medication for Treatment of Troubled Youth
Recommendations
Federal government
All appropriate federal agencies should support technical assistance (TA) for children's mental health, school-based mental health services, and TA to support evidence-based treatments for serious emotional disturbances.
States and local communities
State and local behavioral health agencies, in collaboration with state and local school districts, should increase access to good treatment through increasing opportunities to access a full array of treatment services in schools. The provision of treatment delivery in schools is imperative to addressing the needs of youth with complex mental health needs. The direct availability of these services in the school setting reduces barriers to access and ensures easy access to mental health service provision.
The Efficacy of Age Restrictions for Firearm Purchases
The suspected shooter at Marjory Stoneman Douglas High School is a 19-year-old who purchased the long gun he allegedly used from a licensed dealer after passing a federal background check. His ability to do so sparked new debate about age restrictions on firearm sales.
A 2017 study on the effects of firearms laws on firearms homicides in the United States was based on a systematic review of 34 empirical studies published between January 1970 and August 2016. Five of the 34 studies examined juvenile age restrictions prohibiting the possession and/or purchase of handguns by persons younger than 18 or 21 years. This review found that the evidence does not indicate that additional state law age requirements would be effective.
The existing research findings on the efficacy of current minimum age of firearm purchase laws do not support the conclusion that those laws have a measurable impact on reducing homicides, suicides, or unintentional deaths. Analyses of completed school shootings indicate that school shooters do not frequently use legal purchase as a method for obtaining firearms. More often, they obtain them from within the home or steal them. These findings suggest that modifying the minimum age of firearm purchase is unlikely to be an effective method for preventing or reducing school shootings.
Recommendations
States and local communities
Without more comprehensive research, and because most school shooters obtain their weapons from family members or friends rather than by purchasing them, states seeking to prevent unlawful adolescent access to firearms should consider offering training or other resources to promote safe storage of firearms.
States should consider sponsoring additional research to determine how best to prevent adolescents from unlawfully accessing firearms.
Training School Personnel to Help Ensure Student Safety
All school personnel play an important role in school safety. Training on safety matters helps prepare them to respond to incidents of school violence. The school personnel best positioned to respond to acts of violence are those with specialized training such as school resource officers (SRO), who are typically sworn law enforcement officers, and school safety officers (SSO), who are typically unsworn school security staff. These officers have been specifically trained in school safety to act as a first-line of defense. Their presence at school facilities and on campus allows them to build the kinds of relationships with students that can prevent or mitigate incidents of school violence.
A review of state-mandated emergency drills and training related to school safety identified 43 states that required schools to conduct safety training for teachers or other school staff. Some 21 of the 43 required training on emergency operations plans or emergency response procedures, and 14 of them required training related to mental health or violence prevention.
In 2016 some 57 percent of public schools reported the presence (at least once a week) of security staff. That number, while an increase over prior years, leaves almost half of America's public schools without any regular school security staff presence. There are a wide variety of reasons for the decision not to have regular designated school security staff on site, ranging from funding to remoteness of locale. Ten states have sought to address this situation by allowing school staff to possess or have access to firearms at school. No state mandates arming school staff. Several hundred school districts provide school staff access to firearms, usually as part of a layered approach to school security. All of these programs require a mandatory minimum level of training.
Recommendations
States and local communities
States, districts, and local schools should develop a comprehensive school safety plan that includes a requirement for school safety training for all school personnel. When developing training for all school personnel, states and local communities should consider the following:

Use specialized school personnel who are trained to prevent, recognize, and respond to threats of violence;
Review the quality and quantity of training for all school staff, especially specialized school personnel and others who may carry weapons;
Ensure that school administrators are trained on the proper role of SROs and SSOs, including how to work collaboratively with them;
Clarify the roles and responsibilities of specialized school personnel such as SROs and SSOs through MOUs;
Clarify the parameters of information sharing between school staff, SROs, and SSOs, with special consideration and training regarding the privacy requirements of the Family Educational Rights and Privacy Act (FERPA) and the Health Insurance Portability and Accountability Act (HIPAA); and
Determine, based on the unique circumstances of each school (such as anticipated law enforcement response times), whether or not it is appropriate for specialized staff and non-specialized staff to be armed for the sake of effectively and immediately responding to violence. This can be particularly helpful in districts where the distances involved can make police response times longer.

States and local communities, in concert with law enforcement, should consider various approaches to school safety based on their own unique needs. School districts may consider arming some specially selected and trained school personnel (including but not limited to SROs and SSOs) as a deterrent. Before deciding on the voluntary arming of school personnel, states, districts, and schools should carefully consider the following:

Existing security measures What types of security measures already exist to ensure student safety? Is there a full-time SRO already present in case of emergency?
Proximity of police How quickly can local police arrive in the event of an active shooter? How well do local police know the school (e.g., layout of the school, area around the school) in order to coordinate an effective response?
Acceptance of the school community Are school community stakeholders comfortable with arming school personnel? Are there staff members willing to voluntarily participate in such a program, particularly those with prior law enforcement or military training?
Preparedness What would initial and ongoing background checks and screening requirements entail? What initial and ongoing robust training requirements would be in place? How would firearms be properly secured yet made easily accessible when necessary?
Local policy and state law Does local policy and state law allow for the arming of school personnel? What infrastructure and resources exist for the creation of such a program? What potential liabilities exist for such a program (e.g., ability to maintain insurance coverage)?
Emergency and Crisis Training for Law Enforcement
Recommendations
States and local communities
State and local law enforcement should take advantage of these resources to assist them in preventing, planning for, and responding to school shooting incidents. They are also encouraged to suggest areas in which additional resources might be useful.

Justice Assistance Grant
National Training and Technical Assistance Center
Identifying an Armed Person Training
VALOR Officer Safety and Wellness Training and Technical Assistance Program
Preparing for Active Shooter Situations (PASS) Training Program
School Violence Prevention Program (SVPP)
Behavioral Analysis Unit (BAU) Active Shooter Reports
Active Shooter Incident Reports
Crisis Communications Quick Reference Guide
Behavioral Threat Assessment Center
The Transition of Military Veterans and Retired Law Enforcement Officers into New Careers in Education
Military veterans and retired law enforcement officers often have the leadership, experience in high-stress environments, and essential training to help ensure the safety and security of our nation's schools. Many will also possess pedagogical skills—classroom management and real-world experience training others—that can make for highly effective educators. Former service members and police officers stepping into roles as principals, administrators, teachers, counselors, school resource officers (SROs), and other school-related positions could help foster safety in our schools.
Recommendations
Federal government
Congress should pass legislation that establishes a public-private partnership led by a single federal agency to unify the funding and operational control of identifying and recruiting more veterans and retired law enforcement officers into new careers in education. A public-private partnership could help ensure the reach and sustainability of existing programs.
Congress should change the intent and scope of the TTT program, broadening its reach to include a wide range of education professionals such as principals, administrators, nurses, counselors, and school resource officers, in addition to teachers.
Congress should amend the TTT program to provide financial assistance to veterans and law enforcement officers when teaching at any U.S. school. Because of the importance of school safety issues to all schools, whether high-poverty or not, Troops to Teachers could expand the scope of eligible schools.
The U.S. Department of Defense should consider promoting careers in education for future veterans throughout the military life cycle; creating a "future in education" curriculum within the Transition Assistance Program; and authorizing programs such as Skillbridge and the Army's Career Skills Program to partner with state and local school districts.
States and local communities
States and districts should consider offering incentives and additional resources to recruit veterans and law enforcement officers into careers in education. Policies, programs, and incentives could include:

Instituting fast-track application reviews for veteran and law enforcement applicants
Collecting and using data on veterans and law enforcement officers, including number of applications, hiring, and retention;
Adding preference points to a job candidate's score for relevant military and law enforcement experience;
Employing a dedicated hiring officer to recruit and hire veterans and law enforcement officers; and
Participating in the U.S. Department of Veteran Affairs GI Bill On-The-Job training and apprenticeship program as a way to attract veteran candidates to school employment positions.

States should reduce barriers to certification and incorporate appropriate incentives and programs that help veterans and law enforcement officers enter new careers in education. Policies, programs, and incentives could include:

Encouraging districts to provide compensation structures that include salary credit for prior military and law enforcement experience;
Providing districts with financial incentives to hire significant numbers of veterans and law enforcement officers;
Changing state legislation and policies that prevent local agencies from re-hiring certified law enforcement officers because of pension penalties;
Establishing a dedicated military veteran and/or retired law enforcement liaison position;
Applying for TTT grants and/or establishing a state center designed to conduct outreach and certification support to veterans and law enforcement officers; and
Partnering with Department of Defense programs such as Skillbridge and the Army's Career Skills Program.
4 responses to "Highlights from the Final Report of the Federal Commission on School Safety"