Highlights from the Final Report of the Federal Commission on School Safety
Don't have time to read the 180-page Federal Commission on School Safety final report? Here's what's important for school security professionals to know.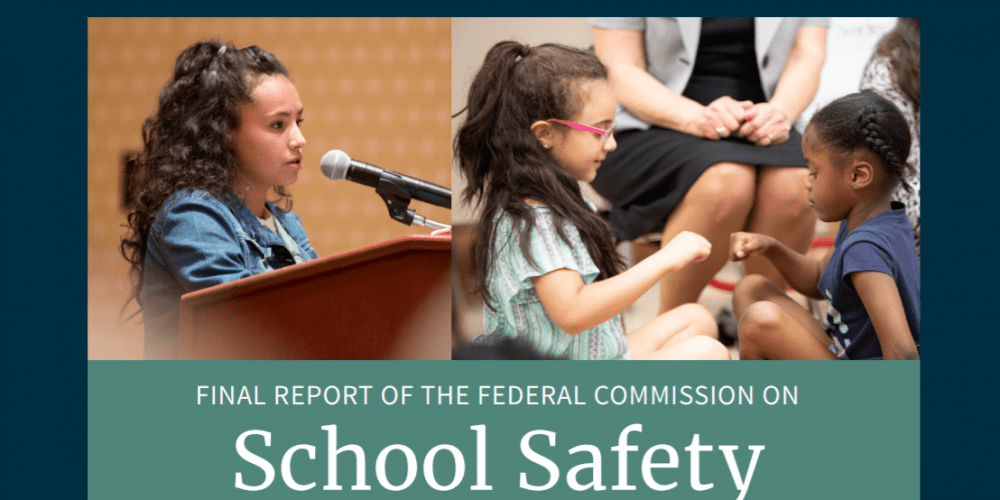 Issues of Mental Health and Counseling
A U.S. Department of Education and U.S. Secret Service analysis found that as many as a quarter of individuals who committed mass shootings had been in treatment for mental illnesses, and more than three-quarters had symptoms of a mental illness prior to the time of the shooting. That said, there is little population-level evidence to support the notion that those diagnosed with mental illness are more likely than anyone else to commit gun crimes.
Although the presence of a mental illness may not be directly correlated to violence, trends with respect to youth mental illness are of great concern.
Additionally, the alleged Parkland shooter had experienced numerous instances of difficulties in the community and with his family, including violence against animals and toward his mother and others. Social isolation also appeared to be a factor in the Parkland case. The alleged shooter was reported to be lonely, ostracized, and volatile.
There is an urgent need to reduce risk for youth mental, emotional, and behavioral difficulties through the implementation of efficacious and effective prevention interventions, as well as identify youth at risk for mental illness in schools and connect them with needed treatment and services. This includes efforts to increase basic mental health literacy, particularly for those working with young people.
Most communities and schools lack high-quality treatment for children and adolescents, however. Up to 79 percent of school-age youth have unmet mental health needs.
Integrating mental health prevention and treatment services and supports into schools can provide many benefits, including reducing risk for mental health disorders and increasing access to care for those who need treatment while reducing the stigma of seeking help. It can also help provide early identification, intervention, and a full continuum of services while using a multidisciplinary approach.
Comprehensive school-based mental health systems (CSMHS) are school-community partnerships that provide a continuum of mental health services (such as prevention, early identification, and treatment) that support students, families, and the school community. They seek to improve the school climate and can decrease social isolation and marginalization, including bullying. Key aspects include evidence-based universal prevention; training for school and community members to identify and respond to early warning signs of mental health difficulties; and targeted prevention and treatment intervention programs and services supporting the mental health of students. Mental health care delivery is integrated within school settings.
Recommendations:
Federal government
SAMHSA and CMS should provide information to states on available financing options for comprehensive school-based mental health care services, enabling states to develop innovative solutions within current requirements.
All appropriate federal agencies should increase awareness of mental health issues among students and ways to seek needed care. Often, stigma is associated with the lack of seeking help for a mental health condition. As discussed during the July 11 Commission meeting, stigma is often the reason that individuals needing help choose not to seek treatment.
The U.S. Department of Health and Human Services (HHS) Health Resources and Services Administration should continue to support the mental health workforce response to children's needs through existing programs such as the National Health Services Corps Loan Repayment Program.
States and local communities
All appropriate state and local agencies should continue to increase awareness of mental health issues among students and ways to seek needed care. Often, stigma is associated with the lack of seeking help for a mental health condition. Stigma is often the reason that individuals needing help choose not to seek treatment.
Schools and local behavioral health agencies should increase training of adults who interact with children (e.g., caregivers, preschool staff) to recognize signs and symptoms of mental illness. This is an imperative step in enhancing school-based mental health services. The Early Childhood Mental Health Consultation model trains such adults to identify early signs of mental health conditions and to respond appropriately. Additionally, training can be enhanced through the development of a network of national and regional technical assistance centers for children, adolescent and youth school-based mental disorder prevention and treatment. The network should assist states and localities in adopting mental health promotion activities, including suicide prevention and clinical treatment provision. It would work in collaboration with the SAMHSA-established national network of Technology Transfer Centers in Prevention, Addiction, and Serious Mental Illness. Trainings to increase mental health literacy to recognize signs and symptoms of mental illness, such as Mental Health First Aid, also provide key resources for individuals working with children. Distribution of tools and resources, including the SAMHSA-developed PowerPoint "Assessing and Addressing Risk of Violence in Youth," to all school districts and college campuses, could also be considered.
State and local school districts in collaboration with social service, faith based, primary care and law enforcement agencies should develop and implement comprehensive and coordinated approaches that are inclusive of all systems involved in service provision. This is a critical factor in addressing school-based mental health in the most efficient way possible. The systems of care (SOC) framework is an approach that explicitly includes all systems that are involved with providing services to children and is a proven best practice in providing comprehensive, community-based mental health prevention, treatment, and support services to youth with SED or SMI and their parents and families. Examples of the types of systems in an SOC approach are social services, education and juvenile justice. Youth and transition-aged youth receiving services in SOC programs may include those experiencing an FEP, those with SED or those with SMI. Recipients of SOC services have demonstrated significant improvements in behavioral and emotional functioning; significant reductions in thoughts of suicide and suicide attempts; significant reductions in unlawful activities; and significant cost reductions due to decreases in hospitalizations and arrests.
State and local behavioral health agencies should increase the availability of high-quality community-based services such as Certified Community Behavioral Health Clinics and crisis/acute care services (e.g., mobile teams, inpatient care), as needed. These services could include evidence-based practices, trauma-informed services, multidisciplinary team-based approaches, recovery supports, and medication-assisted treatment, where indicated.
State and local school districts should engage and activate natural supports in communities. It is not enough simply to engage law enforcement, healthcare and schools. Other supports, such as the faith community, can help identify and support youth with SED and refer them to needed treatment. Although the school system plays an integral role in ensuring the sound mental health of its students, a holistic community approach is needed. Community partnerships contribute to the success of the expansion of school-based mental health.
State and local school districts should increase the use of technology, including telemental health infrastructure, to increase access to services for individuals in underserved or rural areas. Telehealth service provision and care extension strategies include collaborative models of medical education and support to manage patients with complex conditions such as the Extension for Community Healthcare Outcomes (ECHO) type model. These models have been very effective in serving hard-to reach populations and areas. Telehealth provides a means to treatment access for those who might otherwise not be able to access it.
Integrating Mental Health, Primary Care, Family Services and Court-Ordered Treatment
Students often come to school with multiple complex health, mental health, and social service needs. Schools can play an important role in curating healthy environments that seek to prevent and mitigate the onset of health and mental health conditions. Developing and promoting models in which mental health and substance use screening, treatment, and support services are integrated into school and pediatric settings can help to ensure that children, youth, and adolescents with needs (along with their families) are identified earlier and gain access to treatment and other support services.
Studies show that the way to integrate services and shift the overall school culture to support these services is to develop and implement a plan that works with other important school issues and supports the goals of education. In general, the most successful integration programs include buy-in from committed and dedicated leaders, and exhibit effective communication and collaboration among the integrated care team. A significant amount of research demonstrates that treatment is much more likely to be effective and completed when services are school based.
Pediatric primary care
Care coordination is a key part of the SAMHSA (Substance Abuse and Mental Health Services Administration) Systems of Care model. This is a recommended approach for working with children and their parents/ caregivers as they navigate complex multisystem agencies and services. Involving the family in the care of their children and adolescents by including them in the services and supports provided in schools or in pediatric primary care settings is an essential part of providing integrated care. Parents and the family play a key role in supporting any interventions. Families should be engaged in the development and implementation of treatment services in a meaningful way.
Prevention and early intervention programs to divert youth from the Justice System
Prevention services that address mental health conditions and divert youth from the juvenile justice system are an essential part of an effective continuum of services. Prevention strategies include: education for both the family and the youth on key issues such as substance use, social skill development, support for academic achievement, connection to family and other adults, and close and positive relationships with peers, as well as services and supports for the family, among other interventions.
Students with disabilities, including those with mental and substance use disorders, are more likely to be involved in disciplinary actions at school and are more often suspended or expelled. These actions can have a significant negative impact on a young person and may result in social disconnectedness as well as law enforcement and/or juvenile justice involvement. Once a youth becomes involved in the juvenile justice system, receiving needed treatment is challenging.
Ensuring that at-risk youth receive timely and appropriate prevention and early intervention services is highly recommended as a best practice.
Recommendations
Federal government
SAMHSA and CMS should provide guidance and technical assistance to states on how to utilize federal funding sources to support mental healthcare for children and youth.
All appropriate federal agencies should support the implementation of evidence-based diversion models, including development and dissemination of clear, step-by-step guidance for schools on how to build an approach that best meets the mental health, developmental, and educational needs of children and youth in their systems. One such model is the School Responder Model, where the young person's mental health and substance abuse needs are assessed and then linked to needed community services, including mental health treatment. An effective responder initiative should identify youth with behavioral health needs, reduce their disproportionate referral to the juvenile justice system, and increase their connection to appropriate services that have been shown to improve mental health outcomes and decrease interactions with the justice system. Key components of this model are 1) cross-systems collaboration teams; 2) family and youth engagement; 3) implementation of a behavioral health response (e.g., screening, assessment and services); and 4) creation of formal structures.
The U.S. Department of Health and Human Services (HHS) should develop guidance for service providers, justice officials, first responders and school systems on model state involuntary treatment legislation such as AOT. Clinical programs with outreach to individuals are often a necessary companion to AOT laws. An example of this style of service is Assertive Community Treatment teams, which provide psychiatric and medical care, assure adherence to prescribed medications, and provide counseling and assistance with obtaining community supports.
States and local communities
State and local school districts and state and local behavioral health and health agencies should work together to promote screening and early intervention for mental/substance use disorders in all settings by increasing education and awareness of the importance of these services; by supporting the use of evidence-based screening tools and instruments; and by supporting increases in funding for behavioral health professionals in all settings.
State and local school districts and state and local behavioral health and health agencies should work together to support evidence-based care coordination models that ensure a thorough assessment and provide referral, follow up, communication, and ongoing collaboration among and between agencies and providers by working with all public and private payers to provide coverage for these services.
State and local school districts should expand the implementation of tiered models that intentionally focus on school climate and incorporate social and emotional learning and prevention, as well as access to specialty treatment for the minority of children who require it. WSCC, MTSS, and PBIS are examples of these systematic models.
Law enforcement agencies in collaboration with state and local school districts and state and local behavioral health agencies should develop clear guidance for law enforcement, courts, juvenile justice systems, and jails around developing supportive partnerships with schools to implement effective diversion programs, identifying individuals who could benefit from participation in such programs, and implementing proper procedures for identifying mental and substance use disorders. This guidance can identify specific mechanisms and related practices for diversion at various stages (or intercepts) in the criminal and juvenile justice systems, including pre-arrest, pre-booking, arraignment, and juvenile court.
State and local behavioral health agencies in collaboration with state and local school districts should expand Multi-Systemic Therapy and other evidence-based treatment modalities to most effectively treat youth at risk of incarceration. Multiple controlled trials of MST report significant reductions in rates of recidivism and conduct problems.
State policymakers should examine AOT laws in states with attention to consideration of lowering the commitment threshold for AOT in youth with untreated and unstable mental illness. This is so that an appropriate level of care can be mandated (a) for youth with mental health conditions who would clearly benefit from treatment for a mental illness but have a pattern of not engaging with treatment; and (b) where that treatment would improve the overall condition and reduce the risk of harm to themselves or those around them.
State policymakers should consider redefining specific terms currently used in most civil commitment state statutes. For the involuntary commitment of an individual due to suicidality, homicidality or grave disability, the terms "gravely disabled" and/or "imminent danger" are currently used. States should consider whether statutory modifications to incorporate language such as "mental status reasonably foreseeable to be likely to be associated with suicidality, homicidality, or grave disability" would lead to better public policy outcomes. Such a standard, for example, may help secure the involuntary hospitalization and treatment of individuals before they act on thoughts of harm to themselves or others—or the occurrence of other behaviors resulting from impairment produced by untreated mental illness likely to lead to incarceration or other adverse events.
4 responses to "Highlights from the Final Report of the Federal Commission on School Safety"