Editor's Picks: Robin's Top 10 Campus Safety Stories from 2021
The Campus Safety articles, videos and podcasts I've picked show the breadth and depth of issues and incidents that all campus protection pros must address.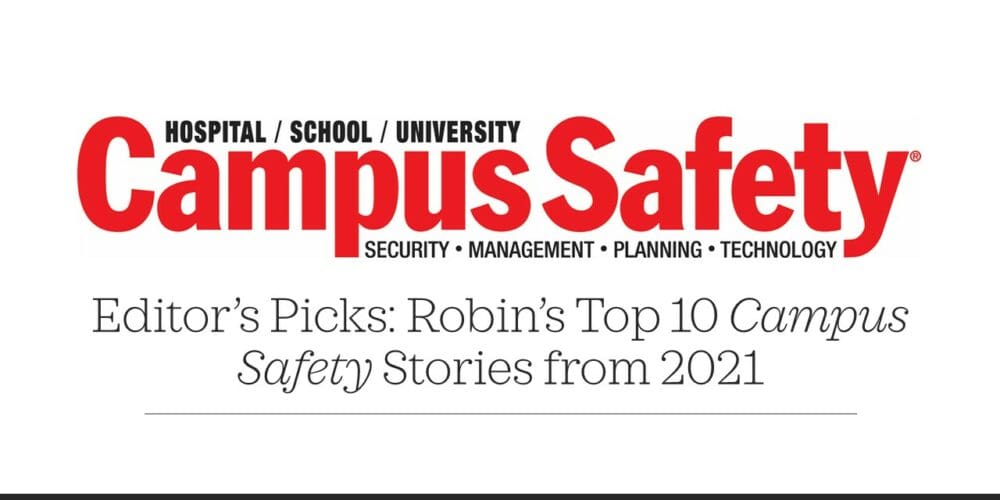 When Campus Safety Senior Editor Amy Rock and I decided to change our approach to our year-in-review coverage this year, a bit of anxiety came over me. How was I supposed to pick the best content of 2021 when there was so much great material to choose from?
Picking my favorite articles was kind of like trying to pick my favorite kids. Not that I have any children of my own, but if I did, I would love them all!
But like my would-be children, all of the stories, podcasts and videos we ran this year – including the content that didn't make Amy's or my Top 10 lists – had their own unique characteristics that made me appreciate them in their own, special ways.
Not surprisingly, the pandemic dominated our coverage. Practically every article, video and podcast Campus Safety published this year touched on COVID-19 in some way.
However, most of the articles I selected as my favorites for 2021 didn't feature the pandemic as the main topic. A lot of other things happened this year besides the coronavirus, such as severe weather; parents acting out at school board meetings; political turmoil and more.
Additionally, like every year, 2021 featured content that highlighted leading practices in technology, emergency management and mental health.
In fact, I'm thinking that maybe this article shouldn't be called "Robin's Top 10 Campus Safety Stories from 2021" at all. Instead, the list that follows highlights the articles, videos and podcasts that show the breadth and depth of topics that all campus protection pros must address.
And lest you think this list includes everything we cover in Campus Safety, think again. There's a whole host of topics I'm not mentioning in this list but whose articles are also worthy of kudos. Those topics include cybersecurity, sexual assault, hazing, mental health, the labor shortage, supply-chain issues, active shooters, lawsuits, Title IX, the Clery Act, workplace violence, the increase in crimes at hospitals, use of force, bullying, indoor air quality, training, threat assessments and management, managing the media and more. I could go on and on.
I also want to thank the many school, university and hospital protection professionals who contributed content this year. Some of your work is mentioned in this article, but the vast majority of it is not. That's not because it wasn't good. It was great! I just was limited to 10 articles, videos and podcasts.
So, here you go. These are in no particular order.
Happy New Year!
I chose this article, not only because I love dogs, but also because it shows how much impact campus police departments can have on their students and local communities when the department is open to new and unconventional approaches.
According to University of Illinois Urbana-Champaign Department of Public Safety Senior Director of Strategic Communications Patrick Wade, his department has four comfort K9s that have a wide range of duties, including responding to mental health calls and disasters, as well as community engagement. The positive impact on the community is truly impressive.
What really struck me about these types of programs, however, is how they help child victims of abuse open up to advocates about what has happened to them. In one study, the use of comfort K9s enabled victims to open up nearly 85% of the time. Normally, without the use of dogs, the disclosure rate by child victims is only 34%
Although Campus Safety often focuses on security, this article and video gallery, put together by Amy, demonstrates that hospital, school and university protection professionals must have a clear understanding of emergency management, not just security and law enforcement.
The dramatic videos in this gallery are important reminders that severe weather is a significant threat campuses must tackle.
Normally, school board meetings are rather boring, uneventful proceedings. However, in 2021, they were anything but. Parents and other members of the public began threatening and harassing school board members. It got so bad that in October, the Department of Justice and FBI had to intervene.
In "Safety Planning for Volatile School Board Meetings," author Gary Sigrist Jr., who is CEO and president of Safeguard Risk Solutions, outlined the prevention/mitigation, planning, response and recovery steps K-12 school districts need to take to keep school board members safe. Sigrist gives specific tips that address parking security, room capacity and other issues that will help campus protection pros prevent, respond to and recover from these types of security incidents.
In the 2021 Campus Safety Video Surveillance Survey results that we just released, 30% of respondents said they purchased body-worn cameras in the past two years, and 27% said they are considering buying this equipment in the next two years.
With this in mind, I figured many Campus Safety readers could learn a lot from my interview with 2021 Healthcare Director of the Year Mike Hodges. In this podcast, Hodges, who is Piedmont Healthcare's director of public safety, talks about why his officers are now using body-worn cameras and how they went about acquiring this equipment. He also discusses the policies Piedmont Healthcare developed and the results of his department's use of this technology.
Watch the video or listen to the podcast.
I'm highlighting this tabletop exercise from Idaho Office of School Safety and Security Analyst Guy Bliesner because it demonstrates the randomness and bizarre nature of some of the incidents that school safety professionals must address. Sure, most K-12 campuses have emergency plans for things like active shooters, inclement weather and the like. But mercury contamination? Really?
This exercise, which is based on an incident that actually happened in a classroom, drives home the fact that school security practitioners must be flexible and ready to respond to practically anything. It also is the first of Bliesner's series of tabletop exercises that we ran throughout 2021.
Colleges, school districts and healthcare organizations are buying a lot of security technology these days, but how should campuses go about it so they buy the right stuff? The 11 factors covered in this article from long-time Campus Safety editorial contributor Lt. John Weinstein will help campus protection professionals evaluate the appropriateness of specific technologies.
Although it's wise for school, university and hospital security executives to be generally knowledgeable about the various types of technologies on the market, it's practically impossible to keep up with the latest trends. Additionally, it's probably not realistic for them to wade through the "weeds" of highly technical topics.
That's why it's important to hire a well-qualified security systems integrator. But how?
In this article, author John Nemerofsky, who is COO of Sage Integration, provides four general questions covering experience, IT proficiency, maintenance and innovation that campuses must ask security system contractors before hiring them.
Although we might feel we are "done" with COVID, the current surge of infections and hospitalizations has made it abundantly clear that COVID isn't done with us. That said, it's never too soon to plan for the future since we don't know when the next pandemic will strike.
This article highlights 11 lessons that college and university emergency managers have learned so far from the current pandemic and how they can be applied in the future. This story draws on the experience and expertise of college campus emergency managers from around the nation, including emergency managers from Kennesaw State University, Georgia Southern University, the University of Notre Dame and the University of Georgia.
I wrote this editorial shortly after the January 6 Capitol riots. It's a reminder that we all need to look at our biases and the lenses we look through to ensure our perceptions of reality are based on fact. In campus security, denial is dangerous and can lead us to ignore obvious threats, such as those posed by the January 6 rioters.
We owe it to the Capitol Police officer who died, his fellow 140 officers who were injured during the riots, as well as to law enforcement professionals across the nation and our organizations, to confront our biases so we can fully comprehend who and what is actually a threat. Only then can we realistically and appropriately address the security threats we face.
This final video gallery highlights five individuals who choose to follow their better angels. Whether it's a high schooler saving a choking classmate, a college student disarming a gunman, or a police officer using his crisis intervention training to save the life of a fellow veteran, these videos show that bravery and willingness to help others still exists among all walks of life.
Let's hope that all of us choose to follow these examples and embrace our better angels in 2022.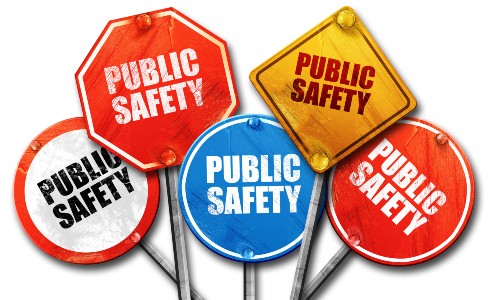 Leading in Turbulent Times: Effective Campus Public Safety Leadership for the 21st Century
This new webcast will discuss how campus public safety leaders can effectively incorporate Clery Act, Title IX, customer service, "helicopter" parents, emergency notification, town-gown relationships, brand management, Greek Life, student recruitment, faculty, and more into their roles and develop the necessary skills to successfully lead their departments. Register today to attend this free webcast!