Cameras Continue to Be an Integral Part of Campus Security
Check out the participant comments about their security cameras from this year's Campus Safety Video Surveillance Survey.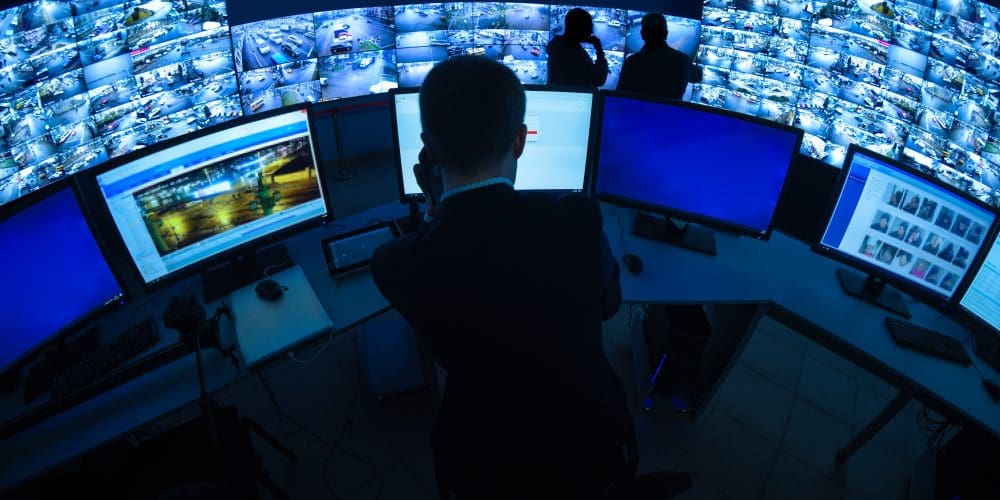 The Campus Safety 2019 Video Surveillance Survey asked school, university and healthcare facility protection professionals for comments on the successes and challenges they've experienced with their security camera systems. Hundreds of comments were submitted.
The problem that was most frequently mentioned was the lack of funds to pay for new or upgraded solutions. However, one respondent claims his campus saved $20,000 per server by utilizing the services of its in-house IT department for the installation.
Respondents were very forthcoming with praise for their security cameras, with many saying they used their video systems to investigate thefts and fights. Cameras also have helped some respondents investigate hate crimes, stalking allegations, sexual abuse claims and car accidents. One hospital used its video surveillance system to help stop an infant abduction. Additionally, participants said they use their cameras to monitor vehicle traffic flow, damage from inclement weather and more.
Overall, most hospital, school and university protection professionals appear to be very supportive of the deployment of security cameras and use this technology frequently to do their jobs and make their campuses more safe and secure.
Here are the comments survey participants provided.
View the results of the CS 2019 Video Surveillance Survey.
Campus Security Camera Successes
"We regularly provide archived video via search warrant to the local PD for evidentiary use in criminal case prosecution. On multiple occasions, the video has made the difference in either obtaining a conviction or plea deal. We've had much better results with newer HDMI video recorded on NVR's vs older analog or DVR equipment."
"Video surveillance has recently been expanded to include Pyxis machines in order to enhance our drug diversion detection program."
"None of the cameras that have been installed have had to be replaced in their 10 year life. Quality cameras."
"In some cases we are able to identify a vehicle for a hit and run accident in the parking lots, monitor live issues occurring on campus such as a medical incident or a confrontation. Injuries or damage to property on campus can be reviewed to determine individuals involved or confirm an incident actually occurred. We have also been able to disprove a stalking report due to the perception of an individual not being a true incident. We can monitor the progress of an evacuation and to critique the process. We work along with law enforcement in aiding them in following up on incidents they are investigating with may occur on our campus."
"We upgraded our cameras this fall and are very pleased with it. We have many new cameras throughout our school. It has been satisfying to know that we can look back on past recordings to find things we need to find."
"We have been able to assist local law enforcement with incidents, some potential crimes, with video footage that assisted them in identifying suspects/participants. Since the upgrade in our camera system 3 years ago, theft incidents have sharply declined and or been successfully solved."
"Only successes seem to be solving issues that would not normally be captured by the staff, but we seen on camera."
"I am a high school resource officer. Our new security camera system has helped with many bullying and fighting issues that we've had in our hallways. It has also assisted in identifying a student that was going into classrooms, that teachers had left open, and committing larceny. It has also aided in identifying some students that had activated the school's fire alarm system on several occasions. Our camera system has even been used to locate subjects, other than staff or students, in the building that were able to get inside the building other than going through controlled access entrances."
"The video system along with Swipe and sign in records have solved multiple crimes."
"Security Camera footage has solved many unsolved mysteries for us. I wish we had the funds to install them everywhere needed."
"A student stole a large amount of cash from a substitute teacher's purse. He denied taking the money, but video evidence gave the principal and security personnel enough to re-question the student, and after the student was shown the video the student admitted to taking the money and the money was recovered."
"Has been helpful in theft investigations and hit/runs in the parking lots."
"Thefts from dorm rooms have practically been eliminated."
"We have had several successes in solving crimes with the use of our VMS. It was instrumental in helping to solve a robbery case and just a couple of days ago the system helped us locate a suspicious person who was not affiliated with the campus and when he was located we found there were warrants for his arrest."
"We've had many successful criminal prosecutions for both property & personal crimes. Also, the incidence of student fights has diminished directly proportional to video surveillance coverage."
"We've been able to handle integration from analogue/DVR to IP/Network CCTV in house. Great cooperation/collaboration between security and IT has enabled us to transition over with few bumps in the road."
"Has been a huge help with traffic flow."
"With the cost drops recently, Buy-in is much easier. We have upgraded our servers and now have 200TB of storage.; 10 times what it was, and added 150 cameras to include 180 and 360 degree cameras."
"It has cut down on vandalism and resident hall related crime tremendously. We have also been able to identify violators and trespassers. Being able to scope a large area with little manpower."
"Video Surveillance System has been used several times over the past to support or defend staff against claims of patient abuse, support or debunk claims of assault. etc."
"The only major success we've had with our surveillance involved identifying the person who stole technology equipment from the school."
"Great for reviewing incidents that students say happened. Sometimes they did happen, sometimes they didn't. Great for larceny complaints, fights, etc…. Great to see around the exterior of the building during the day as well."
"Our video system has become an indispensable force multiplier for the police department. The system enables us to solve crimes and has become an important component in our assessment of campus conditions during weather events such as snow and ice."
"Since installing six cameras at the two gated entrances of our private school, we have used them in several investigations. They have been used several times to identify suspicious vehicles and actually pinpoint an accurate date/time of occurrence. Instead of 'sometime during the night…' it was, "between 9pm and 9:40pm". Another time, they were used to identify the direction of travel of a rash of stolen vehicles on the busy road fronting our campus. Just this past week, the video surveillance confirmed an account of a vehicle stopping to ask two separate women, walking alone in freezing temps, if they needed a ride. We quickly identified the individual (well-meaning senior) and resolved it without spreading unnecessary widespread fear. Our cameras were placed using the CPTED method and we are adding several more throughout campus the summer."
"We have increased our Trespass warnings since 2014 from 65- over 300. We use the cameras to monitor suspicious behaviors. I believe that has improved the safety of students on campus."
"Captured video of a hate crime which enable the police to make a timely arrest. Captured video was instrumental in the conviction of persons wanted for a homicide."
"The cameras have been used on a regular basis to settle differences among the student body when an adult has not seen an incident occur."
"Security Dispatch received information from Labor and Delivery that an unknown male was taking an infant from the floor. Dispatch issued a Code Adam (infant abduction) campus wide. The second dispatcher immediately accessed the available cameras and traced the suspect from the elevator in L&D to the exit on the first floor, where security officers were able to stop the suspect within 5 minutes of the initial report. The video footage contradicted the suspect statement of unfair treatment, but the safety of the infant was assured."
"We had over twenty laptop thefts in our library. We were able to capture a fairly good image of a suspect who was later caught in the act by our alert police officers. We were able to clear these thefts and arrested two suspects."
"Just having the system and students, staff and community knowing they are in place has helped with not only discipline issues, but help create a sense of safety and security. As for an incident in which our cameras has helped, Thanksgiving weekend, November 2018 we had a person drive by several doors and windows or our building and shooting them with a high powered BB gun. Through our video surveillance system, we were able to easily identify the driver and his car that led to his apprehension in less than 12 hours. This was an amazing situation that truly demonstrates the success of schools and police working together to keep our schools and community safe!"
"We have an open campus in a city with a reputation for violent crime and homelessness. We have identified areas that attract non campus community members and with the use of cameras and loud speakers, we can alert trespassers that we are watching them which prompts them to move on."
"Best thing we have done to enhance security."
"Video surveillance cameras are without a doubt the single most helpful tool in solving crimes on campus and investigating incidents of all types."
Video Surveillance System Challenges and Other Comments
"The biggest challenge is convincing those that control costs and expenses of the need for additional camera coverage."
"We have had great success in the Administration supporting the installation of cameras and upgrading older systems and cameras as needed. Since we gradually grew our camera system and upgrades throughout the years it didn't have a great impact on our budget. We also plan for cameras systems in new construction to be a part of the building budget as are the public address systems and emergency phones."
"Some of our cameras are installed, but I can't hook up to them. Very frustrating. Some are placed too close to each other, and others, I have no vision of due to lack of cameras."
"We are a high school (grades 9-12) and since the upgrade of the camera system, I encouraged our administration to allow the students to see the capabilities of the camera system to help deter any incidents. Most, if not all the students, understand that the school has cameras and has the capability to see most of what happens on campus, thus preventing incidents from occurring."
"Funding for nonprofit schools is very challenging."
"Ensure you get High HD zoom in/out capabilities. Makes life easier to ID the incident and those involved. Placement position is also essential."
"We have three different camera systems in three different buildings. The system in our main building does not allow you to manage the system with admin rights, thus our IT Director is reluctant to give out due to all of the Cyber attacks."
"Our biggest problem is lack of funding to get the system built out and lack of integration with access control. It is getting built slow but sure (86 cameras in 3 years) but obtaining the funding is the biggest challenge right now."
"Video analytics are important in our next phase of applying security camera surveillance in our day to day operations."
"Work with a good in-house IT Department to reduce cost on adding sever space and running cables and installing IP cameras without having the high mark up of an outside vendor.?
We could definitely use an expert to come and assess our camera, video and storage needs.
"Finding competent integrators who truly understand modern IP security camera systems in our area is a challenge. Obtaining financial support for safety and security initiatives in general is challenging as well."
"Some schools have trouble getting buy-in from the campus community. We have a different problem: everyone wants them but no one is willing to pay for them. Seemingly every week I get a request for a camera, often as a way of solving some legitimate but minor problem: catching students cheating on an exam or recording fender benders in a distant parking lot. As grateful as we are for the campus' interest, we do not have an unlimited budget. But when the campus believes cameras are a solution to every problem, we run the risk of looking stubbornly unhelpful when we cannot give them what they want."
"Stay current on all the technological changes to video and NVR systems. Today's Ferrari system will be a Yugo in a few years!"
"Storage is an issue. We have some cameras that only have 2 week storage before the data is lost. Our new cameras have 6 months. It varies based on where the incident happened and when we hear about it whether we might have the footage."
"We are preparing to do a complete lift and shift of our video system."
"Plainly stated. We do not have quality equipment installed that does the job we need it to do. Seeking a solution to operate all systems on a single platform has been slow. In addition, unreasonable privacy concerns limits how they are deployed and what they focus on."
"The system in which we identified the technology thief was part of a remote server. The stream wasn't too clear until we went to the building in which the server/camera system was located. Better streaming would have made identifying the individual much easier."
"Monitoring is a HUGE issue. Cameras alone are only a deterrence. Monitoring AND responding to incidents is security. Staff often happy with deterrence. Parents don't appreciate cost to use cameras properly."
"ALPR technology for capturing license plates is a challenge."
Considering adding facial recognition software at all building exits.
"I would like for us to figure out how to use our cameras for more preventative things."
"As my institution is a hospital, there is always a concern re HIPAA violations that could occur d/t where camera is placed, overall access to review of recordings, accidental privacy violations, etc. Clearer laws & regulations in this area would help institutions know how to better invest limited resources in this area. Use of personnel, personal body cams on all associated workers in a facility fully equipped with voice recording capability in addition to video that could be split electronically as needed into 'packets' of data/information for each pt encountered during the course of a day, which could also double as the patient's record of care, would effectively meet the need for recording/documenting healthcare and go a long way to reducing personal injury lawsuits. but I need to get to work & stop dreaming…"
"Campus security does not have any input on what cameras IT buys or where they are placed despite having security professionals who have many years of experience."
"Challenges for some of our installations were mainly distance to IT closets in buildings. In some cases we had to have fiber pulled and install media converters. At least one camera is being run on DSL due to the inability to run fiber to the location of the phone pole."
"We are upgrading analog Parking cameras to digital. Hopefully the better cameras will provide better license plate views. If not, a plate reader may become a necessity. However as a Public Safety Department it is difficult to obtain vehicle registration information for unregistered vehicles. I would appreciate vendor information for vehicle registrations besides the Secretary of State's Office."
"I wish we had another person with access to the cameras who was not in the school or Youth Center. The principal/superintendent, the director of our on site Youth and Community Center and our counselor all have access. I feel having another person with camera access would be a huge help in certain situations."
"The best suggestion I can provide is find an integrator in your area that handles quality products and let their expertise guide you through the process."
"Our in-house IT Department built severs in-house and saved over $20,000.00 per server built compared to buying from an outside vendor."
"Working with private schools, it is often possible to approach leaders and parents of significant wealth to help contribute to the funding of video systems. This must be done very tactfully and with the understanding and permission of school leadership."View the results of the CS 2019 Video Surveillance Survey.