1 in 5 COVID-19 Patients Develop Mental Health Issues Within 3 Months
Another recent study found that delirium can often be one of the earliest indications of coronavirus infection.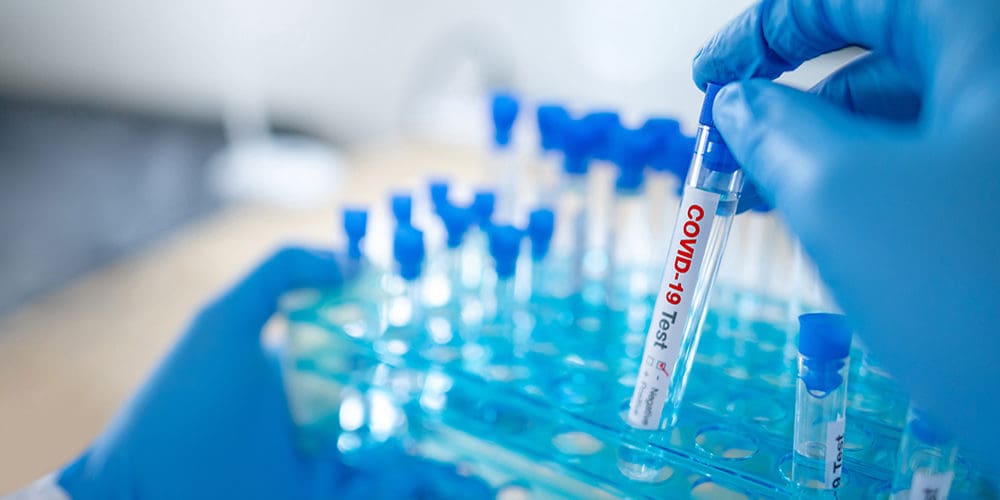 LONDON — A study released Monday found 20% of people infected with COVID-19 are diagnosed with a psychiatric disorder within 90 days.
According to researchers from Britain's Oxford University, the most common symptoms among recovered coronavirus patients who developed mental health problems were anxiety, depression and insomnia, reports Reuters. Higher risks of dementia were also found.
"People have been worried that COVID-19 survivors will be at greater risk of mental health problems, and our findings show this to be likely," said Paul Harrison, a professor of psychiatry at Oxford. "(Health) services need to be ready to provide care, especially since our results are likely to be underestimates."
The study, which was published in The Lancet Psychiatry journal, looked at the electronic health records of 69 million people in the United States, including more than 62,000 cases of COVID-19. Researchers said the findings are likely to be the same for those who are infected by the virus worldwide.
In the three months after testing positive for the virus, one in five said they had a first-time diagnosis of anxiety, depression or insomnia — twice as likely as for other groups of patients in the same time period.
"This is likely due to a combination of the psychological stressors associated with this particular pandemic and the physical effects of the illness," said Michael Bloomfield, a consultant psychiatrist at University College London.
Furthermore, the study found those with a pre-existing mental illness were 65% more likely to be diagnosed with COVID-19 than those without. Simon Wessley, regius professor of psychiatry at King's College London, said this particular finding echoes similar findings in previous infectious disease outbreaks.
"COVID-19 affects the central nervous system, and so might directly increase subsequent disorders. But this research confirms that is not the whole story, and that this risk is increased by previous ill health," he said.
Another recent study that examined the long-term impact of the coronavirus found that those who endured severe symptoms experienced a decline in brain function months after recovery.
The study, which involved 84,000 coronavirus patients, found common cognitive issues included memory loss, brain fog, and an inability to concentrate for sustained periods of time. In some instances, the cognitive decline was equivalent to the brain aging 10 years. The study is in the process of being peer-reviewed.
Other Study Finds Common Indicator of COVID-19 Infection
Similarly, a study recently published in the HSOA Journal of Clinical Immunology and Immunotherapy by researchers from The Open Universitat Oberta de Catalunya in Barcelona found delirium, which affects mental health, can often be one of the earliest indications of coronavirus infection.
According to BGR. delirium is a broad term that encompasses a wide range of cognitive issues such as confusion, memory loss, difficulty concentrating, abrupt mood changes, sleep issues, and more. The onset of delirium is usually sudden.
"Delirium is a state of confusion in which the person feels out of touch with reality, as if they are dreaming," said UOC researcher Javier Correa. "We need to be on the alert, particularly in an epidemiological situation like this, because an individual presenting certain signs of confusion may be an indication of infection."
More specific symptoms include an inability to stay focused on a topic or to switch topics; poor memory, particularly of recent events; difficulty speaking or recalling words; difficulty reading or writing; hallucinations; slowed movement or lethargy; reversal of night-day sleep-wake cycle; and rapid and unpredictable mood shifts.
A full list of symptoms from the Mayo Clinic can be seen here.
Read More Articles Like This… With A FREE Subscription
Campus Safety magazine is another great resource for public safety, security and emergency management professionals. It covers all aspects of campus safety, including access control, video surveillance, mass notification and security staff practices. Whether you work in K-12, higher ed, a hospital or corporation, Campus Safety magazine is here to help you do your job better!
Get your free subscription today!