Ambulance Fire Kills Patient, Critically Injures Paramedic Outside Hawaii Hospital
The ambulance caught fire and possibly exploded as it turned into Adventist Castle Health, located on the island of Oahu.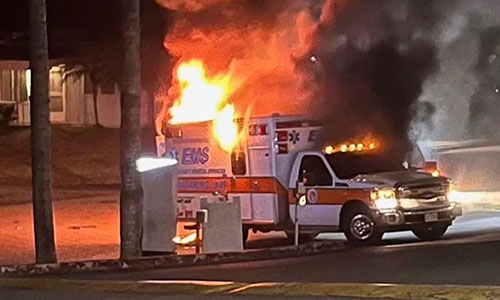 KAILUA, Hawaii — A patient died and a paramedic was critically injured Wednesday night after an ambulance caught fire and possibly exploded as it arrived at a Hawaii hospital.
During a news conference, Honolulu Department of Emergency Services Director Jim Ireland said "everything is on the table" as investigators work to determine what caused the fire, USA Today reports. He said ambulance fires are "extremely rare" but not unheard of.
"We had an ambulance tonight, for reasons we don't understand, catch on fire, possibly explode, prior to entering the hospital," he described. "We're just as eager for answers as everyone else."
Officials said a 91-year-old patient was being transported to Adventist Health Castle in Kailua, a town on the island of Oahu, when the ambulance caught fire near the hospital. The patient died at the scene. A paramedic, a 36-year-old man and eight-year veteran of the force, managed to escape from the ambulance and walked into the hospital's ER with critical injuries. He was first treated by staff at Castle before being transferred to the Burn Unit at the Straub Medical Center.
Another paramedic who was driving the ambulance jumped out after the blast and tried to open the back doors but was unable to because of the flames, according to Hawaii News Now. That individual is in stable condition at Castle.
The Honolulu Fire Department responded and had the fire under control within 11 minutes of their arrival, officials said. Video from the scene shows flames and thick smoke pouring from the ambulance.
Ireland answered reporters' questions, some of which speculated an oxygen device could have contributed to the blast.
"We use oxygen every day on many, many calls," he said. "We need the investigation to give us insight."
The investigation is being handled by the Honolulu Fire Department in conjunction with the Bureau of Alcohol, Tobacco and Firearms (ATF), the Hawaii Occupational Safety and Health (HIOSH), Honolulu Police, and the State Department of Labor and Industrial Relations.