Document Downloads
Video Security Primer
Here are 9 core elements that can help ensure your school has the best video security system for its unique needs.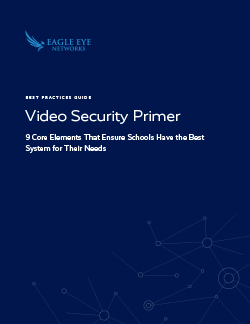 A modern cloud-based video management system goes far beyond just surveillance, providing analytics and intelligence to make your campus smarter, more efficient, and safer.
It's important to think beyond just cost when buying a new VMS for your campus. This new whitepaper, "Video Security Primer: 9 Core Elements That Ensure Schools Have the Best System for Their Needs," covers the factors you need to consider when choosing the right VMS.
Some of the factors covered include:
Cloud-based features
Flexibility in camera usage
Ease of use
Cybersecurity concerns
and more
Download your free copy today to get insight on what you need to know when purchasing a new video management system. Plus, learn about the benefits of having a VMS with an open application programming interface.
Please fill out the form below to receive your download.