Document Downloads
Using Integrated Technology and Connections to Make Schools Safer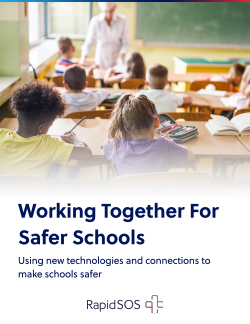 Today, 911-integrated technology, from panic buttons to AI-powered cameras, are playing a crucial role in enhancing school security.
In their latest eBook, RapidSOS has mapped out the key stages of an on-campus emergency and provided examples of how new school safety solutions empower our communities' field responders every step of the way.
Download the free eBook to learn how these solutions are swiftly identifying threats, immediately alerting 911, and expediting the dispatch of field responders.
By reading this eBook you will learn:
How schools are using new technology to proactively identify threats and safeguard our communities
Examples of how school safety solutions connect life-saving data directly to 911 and field responders
The impact of equipping 911 and field responders with life-saving data during a school emergency
Please fill out the form below to receive your download.