Document Downloads
Frugal, Flexible, Efficient: Upgrading Campus Safety on a Shoestring Budget
Learn how to multiply the capabilities of security and communications technologies you already own to improve campus safety.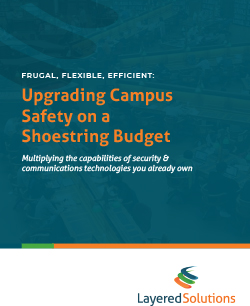 As budgets shrink and threats change, so do pressures to keep people and property safe. Campus safety is an enormous responsibility — one that often exceeds the time, funding, and skills you have available. However, it is possible to secure your campus on a tight budget.
Many campuses are accomplishing this by using technologies they already have and making them work together more effectively. By connecting systems that were never made to work together, these campuses have been able to increase their emergency and routine alert capabilities.
Learn how campuses can layer their existing technologies in this new download,"Frugal, Flexible, Efficient: Upgrading Campus Safety on a Shoestring Budget." Read how one New Jersey school district was able to integrate their existing systems to improve their emergency response.
Download your free copy today.
Please fill out the form below to receive your download.