Document Downloads
Understanding Your Options: ID Card Printing for Higher Education
This Executive Brief contains a guided evaluation of ID card printing options to simplify your choice.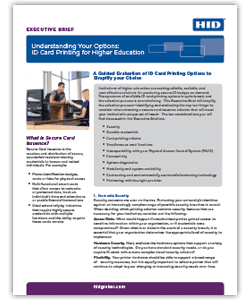 Institutions of higher education are seeking reliable, scalable, and cost-effective solutions for producing secure ID badges on demand. The spectrum of available ID card printing options is quite broad, and the selection process is overwhelming.
This executive brief "Understanding Your Options: ID Card Printing for Higher Education" will simplify the selection process—identifying and evaluating the top ten things to consider when choosing a secure card issuance solution that will meet your institution's unique set of needs.
The ten considerations you will find discussed are:
Security
Durable credentials
Card printing volume
Simultaneous card functions
Interoperability with your Physical Access Control System (PACS)
Connectivity
System diagnostics
Modularity and system scalability
Cost-saving and environmentally sustainable laminating technology
Partnering with the right provide
Download this executive brief to learn how to assess the appropriate level of ID card printer security required to meet your organization's unique needs.
Please fill out the form below to receive your download.