Document Downloads
Top 5 Considerations When Printing School ID Badges
The majority of today's learning institutions have five major priorities they must consistently manage and take into consideration when evaluating ID badge printing options.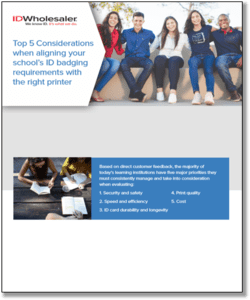 Finding the right printing solution for your school ID badges can be more complicated than you might think. Today's K-12 schools and community colleges are hard-pressed to carefully evaluate multiple ID card printing options and weigh various models and feature sets against their own unique needs and priorities to determine a best-fit solution.
This new guide "Top 5 Considerations When Printing School ID Badges" provides an overview of the most important considerations, including:
Security & Safety
Speed & Efficiency
Durability & Longevity
Print Quality
Cost
Download your copy today to gain important insights that will help you find the right printing solution for your school.
Please fill out this form to access this resource.