Document Downloads
The Ultimate Guide to Incident Management for Higher Education
Download this FREE guide to learn how to reduce the frequency and severity of events impacting your campus.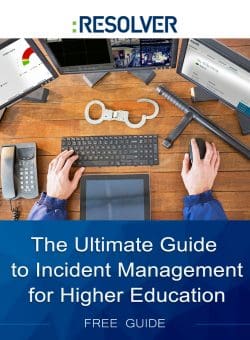 As college and university undergraduate enrollment increases, it's expected that campus crime will too.
We try to contain risk by rectifying incidents that have already happened and using our learnings to try and predict what's likely to happen in the future, but colleges and universities don't have the luxury of a "wait and see" mentality. Not with faculty, staff, students, and community members all relying on you to be ready.
Security professionals at educational institutions are challenged with being reactive to current situations, while also being mandated to ensure that the school is forward-thinking to prevent and reduce the impact of future incidents.
It's not optional. Resilience is necessary.
In the "Ultimate Guide to Incident Management for Higher Education", you'll learn about
The Evolution of the Clery Act
Clery Act Compliance – How Are We Doing?
Investing in Security Software
How Security Teams are Using Software
Download your FREE copy today to become more proactive, rather than reactive, when it comes to protecting what matters >>>
People are depending on you. Your security system should let you focus on them!
Please fill out this form to access this resource.