Document Downloads
The Ultimate Buying Guide to Higher Education Mass Notification Systems
This buying guide will walk you through three key processes to help you select the appropriate Mass Notification System for your institution.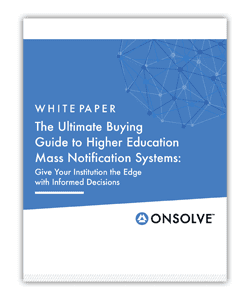 A mass notification system (MNS) can be used to quickly notify campus community members about emergency situations like severe weather events, natural disasters, active shooters, and more. In non-crisis situations, an MNS can be an invaluable tool, letting officials notify stakeholders of campus events and incidents, such as registration deadlines, homecoming events or road closures near campus.
While the right MNS can help transform your campus communications, not all software is equally capable, dependable or robust. Use this guide as you research and conduct due diligence so that you can choose the best MNS to support and serve your institution.
To help you select the appropriate MNS for your institution, this guide walks you through three key processes:
Understanding your institution's needs
Learning about key MNS features
Identifying the critical questions for vendors
Download this FREE report "The Ultimate Buying Guide to Higher Education Mass Notification Systems" to learn how a Mass Notification System can help your campus during an emergency and why you should prepare for one. >>>
Please fill out this form to access this resource.