Document Downloads
Strengthen Your Campus Communication Plan: Tips for Higher Education
Discover best practices when creating a comprehensive, up-to-date communication plan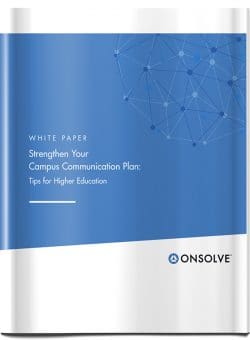 Efficient communication has never been more important in higher education, which has undergone a transformative shift to digital via e-learning, websites, social media, apps, video and mass notification systems.
No matter what form the communication takes, it's clear that people want to be on a campus where communication is valued. Which means you need to have a comprehensive communication plan that is up-to-date and robust.
Learn more about what you should include in your campus communication plan in the free guide, "Strengthen Your Campus Communication Plan: Tips for Higher Education."
Please fill out this form to access this resource.