Document Downloads
Shaping Tomorrow's Generation With Safer, More Connected Schools
See the results from Motorola Solutions' survey about communications and safety technology which features responses from 900 educators.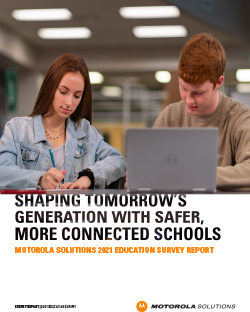 Communications and safety technology is evolving to help schools meet security challenges and ensure that students feel secure, supported, and ready to learn at all times.
To gauge how and why schools are taking advantage of this technology, Motorola Solutions conducted the 2021 K-12 Education Industry Survey. The survey included more than 900 respondents, representing school districts across the United States.
The results are included in this new download, "Shaping Tomorrow's Generation With Safer, More Connected Schools." The survey asked respondents:
What tops educator's list of priorities?
Are your security solutions meeting your needs?
What are the challenges of remote learning?
What types of communication technology do you prefer?
What are the barriers to improving safety and communications?
Get your free copy of Motorola's school security survey report today.
Please fill out the form below to receive your download.