Document Downloads
SARS-COV-2 Airborne Detection to Help Stop Virus Spread
With the COVID-19 crisis still threatening our worldwide health and safety, a technology like CANARY® fights back through rapid detection that's easier to conduct.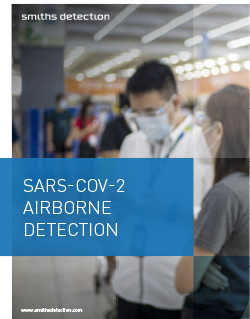 The threat of COVID-19 has, once again, made biological detection a critical security need to keep people safe.
Originally developed by MIT to fight bioterrorism, CANARY® detection technology has been expanded for use in many different fields. Tests conducted by the U.S. Army Medical Research Institute of Infectious Diseases have determined that Smiths Detection's BioFlash Detector, powered by CANARY technology, can detect SARS-CoV-2, without the need of a lab.
To learn more about CANARY® detection technology and how it could help your campus, download this free document, "SARS-COV-2 Airborne Detection."
CANARY® gives users results in minutes, not days, with a level of sensitivity and accuracy not found in similar solutions to date. Get your free copy today to read more.
Please fill out the form below to receive your download.