Document Downloads
Safety Software Buyer's Guide for Higher Education
With the right technology, campuses can manage incidents, communicate, and combat a variety of risks.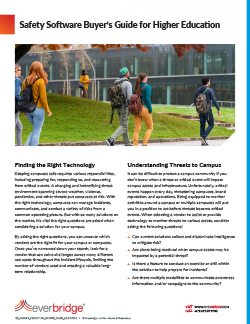 Keeping campuses safe requires various responsibilities, including preparing for, responding to, and recovering
from critical events. By asking the right questions, you can uncover which safety software vendors are the right fit for your campus or campuses.
In this new guide, "Safety Software Buyer's Guide for Higher Education," you'll find questions that you need to answer on the following topics:
Understanding Threats to Campus
Responding in a Timely Manner
Campus Continuity
Get your free copy of this security software buyer's guide today.
Please fill out the form below to receive your download.